What to find on the Advanced View
This tutorial shows you what you can find in the Advanced View.
What to find in the Advanced View​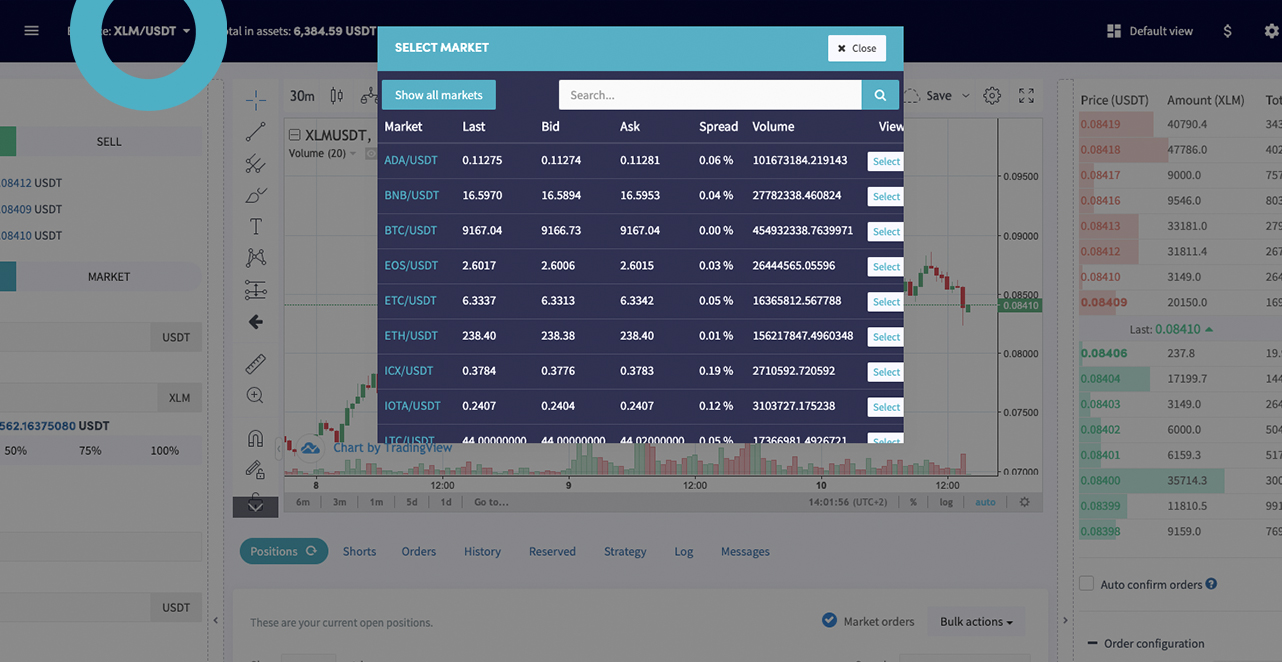 Your view shows one market. If you want to switch markets, click the pair in the top left. The Chart itself offers many tools for trading. You can save specific Technical Indicators in a template and immediately check all your selected coins' technical indicator values.
Default view
Here you can switch away from the Advanced View.
Dollar sign
Here you can click and see all your assets.
Gear wheel sign
Here you can click and see some settings from your bot.
Full-screen sign
Here you can click and get a full screen.
Dark mode
Click the moon sign for dark mode.
Discord
Click here to go to our Discord channel.
Profile button
Here you can check your account, subscriptions and log out.
Synchronize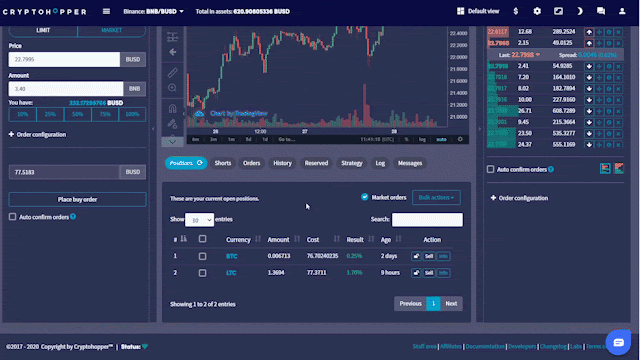 In the assets section, you find all of the assets you currently own on your exchange. More importantly, you can synchronize them into your bot. Click on synchronize to get started!
In the synchronize menu, you can synchronize positions that you have open on your exchange and not in your bot. When you synchronize your assets, your bot will convert your holdings into a position. Your bot will use the current price as the buy price. It will convert your holding into an open position at 0%. If you've bought the asset for another price and want a correct profit calculation, make sure to fill in the right buying price in the "rate" section.
To synchronize a currency, enable sync on the currencies and then click "synchronize selected". You will see it as an open position in your bot. If you do not change anything, then the new position will be sold based on your bot baseconfig, such as your take profit, stop loss, trailing stop loss, strategy, or signals.
Order form
Here place a manual buy or sell order.
Order book
The order book is usable. View where your order is in the order book and drag and drop it to the point you want to have it. Without the need to cancel your order and configure a new one.
Positions
Here you find your current open positions.
Shorts
Here you find your current open short positions.
Orders
Here you find your current open orders.
History
Here you find an overview of the last 50 trades.
Reserved
Here you find your current reserved funds.
Strategy
Here you see what your bot is searching for with your strategy.
Log
This is the place where your bot is "speaking" to you. It will tell you if it encounters any errors or problems.
Messages
Here you find messages from Cryptohopper with updates.
Was this article helpful?