How to use the Backtester
Cryptohopper's Backtester is a new feature that's currently available exclusively to Marketplace Sellers. With this tool, you can backtest all of your template and bot settings, except for triggers, built-in strategies (which are shown in the Strategy list in your Configuration), and TradingView Alerts.
Prerequisites​
Before you begin, check the following:
How to start a new Backtest​
If you haven't selected a bot yet, go to your bot overview and choose a bot. Then click on Backtesting, followed by Go to new backtesting.
Click on the New backtest button.
Select a Template or Bot that you want to backtest.
Choose a date range and time period for your backtest. Please note that the maximum time period allowed is one month.
Determine the checking speed that you want to use in your backtest.
(Optional) Set your start amount and Maker and Taker fee percentage, if desired.
Click on the Start Backtest button to begin the backtesting process.
During a backtest, you can track its progress in the backtest overview, which displays how far the backtest is from completion and which trades it has identified. If you click on a backtest, you will be able to view the following information:
Template or bot name
Exchange
Quote currency
Markets
Backtest period
When the backtest was created and when the last check got processed
Description
The profit over the backtested period
Successful sells
Loss sells
Status
Click here for more information about the tabs of the Backtester.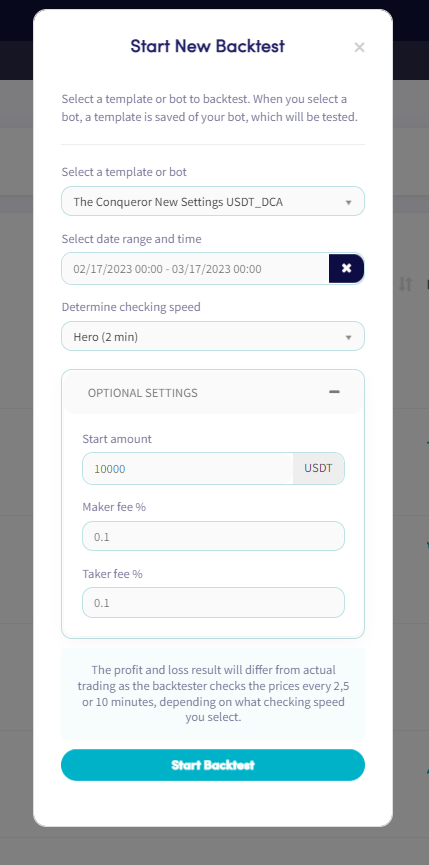 Was this article helpful?