How to create Triggers with TradingView Alerts
This tutorial explains how to use TradingView Alerts for Triggers.
Prerequisites​
How to create Triggers with TradingView Alerts​
Go to your Baseconfig, select Triggers, and click on "New".
Give your Trigger a name.
Enable your Trigger.
The fields "Select exchange", "Select market", and "Select candle size" can remain unchanged.
Select "TradingView" as the indicator.
Select one of the Actions shown.
Determine the Cooldown period in minutes, hours, or days.
Go to Cryptohopper's TradingView app.
Open TradingView and select the market you want to use for the TradingView Alert.
Click on the Alert button and go to the Notifications tab.
Copy the Webhook URL shown on Cryptohopper and paste this into the Webhook URL input field.
Go to Cryptohopper's Alert generator and select "Trigger" as Action.
Select the bot and Trigger for the TradingView Alert and click on "Generate".
Paste the Alert message in TradingView under "Settings".
Click on Save, and your Trigger is ready.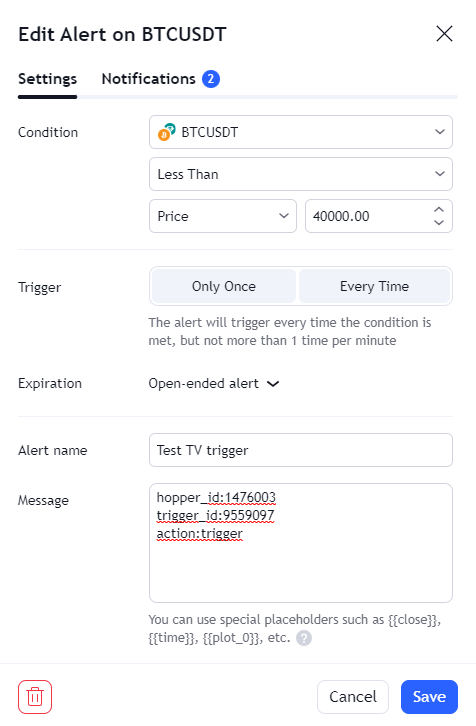 Was this article helpful?