In this article, we explain what Cryptohopper+ is, how to earn XP, where to find your Cryptohopper+ profile and what its benefits are.
What is Cryptohopper+​
Cryptohopper+ is our free loyalty program. All users enter the program when they sign up. It provides opportunities to gain benefits. The more Experience Points (XP) you gain, the more opportunities you have to change your status and access more benefits.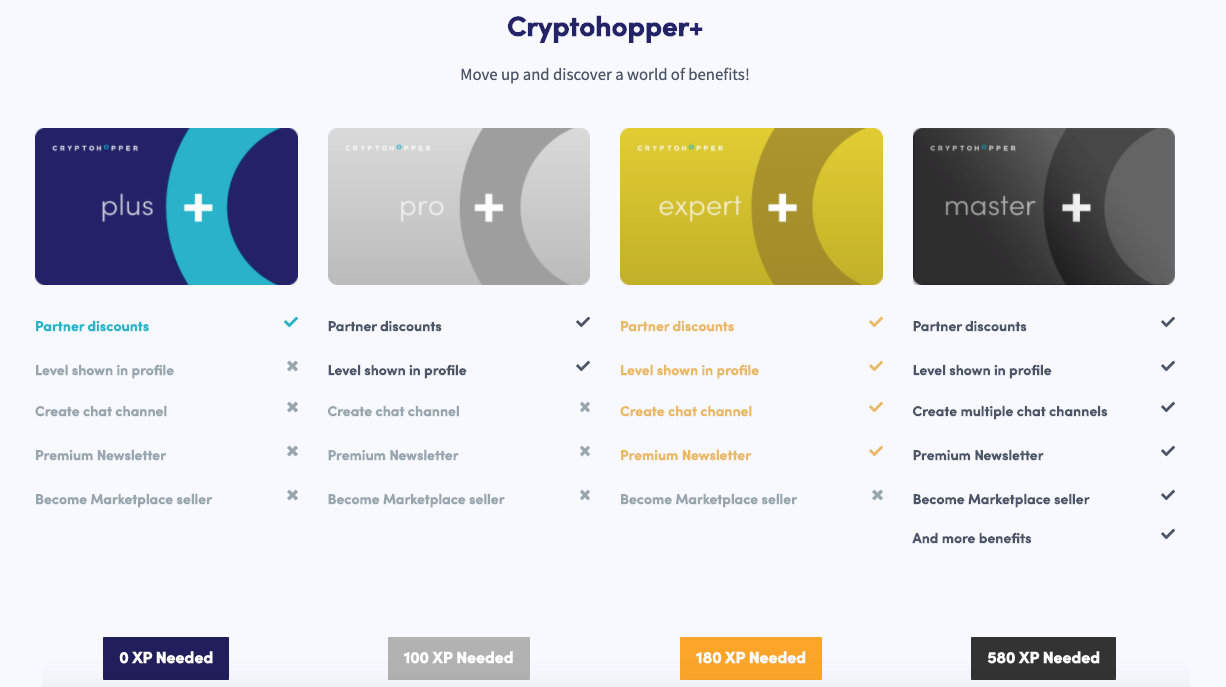 How to earn XP?​
You earn XP through your subscription(s). The higher your subscription, the more XP you earn for every dollar you spend.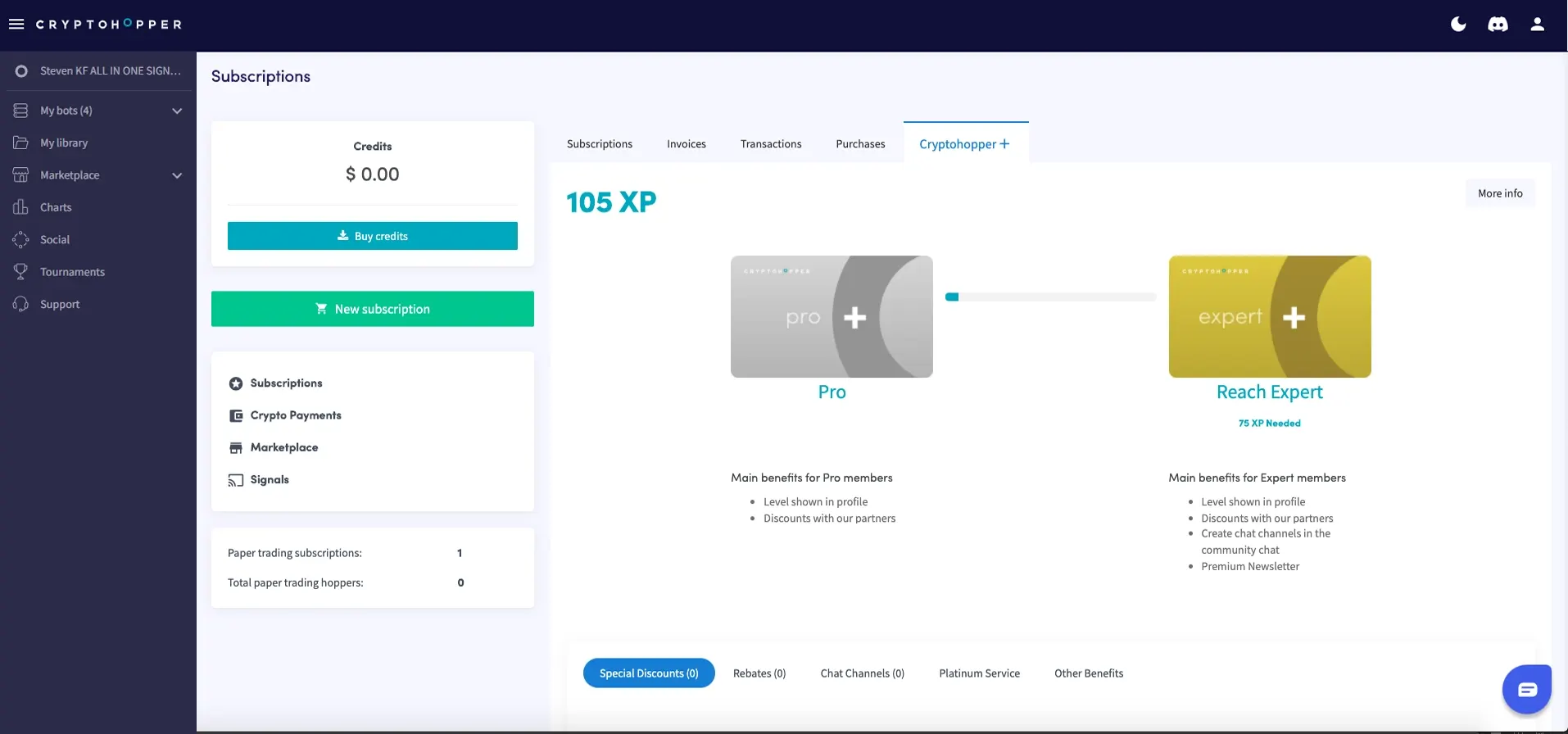 Where to find your Cryptohopper+ profile?​
You can find your Cryptohopper+ profile here. User your Cryptohopper+ profile to:
See the latest discounts offered by our partners.
Enjoy other benefits, like extra paper trading accounts (so you don't have to erase your paper trading exchange if you want to start over) or request new features!
Each month, a small portion of XP will be subtracted. When you've reached your new level, you will be able to enjoy it for a month. Make sure that you have enough XP to keep your level after one month!
For example, you reached 100XP thanks to your purchases. That means you're a Pro user now! 20XP will be subtracted from the Pro level. You can enjoy the benefits of the Pro level for one month. After one month, another 20XP will be subtracted. If you have an Explorer subscription or higher this won't be an issue, since you continue to earn XP when you have active subscriptions.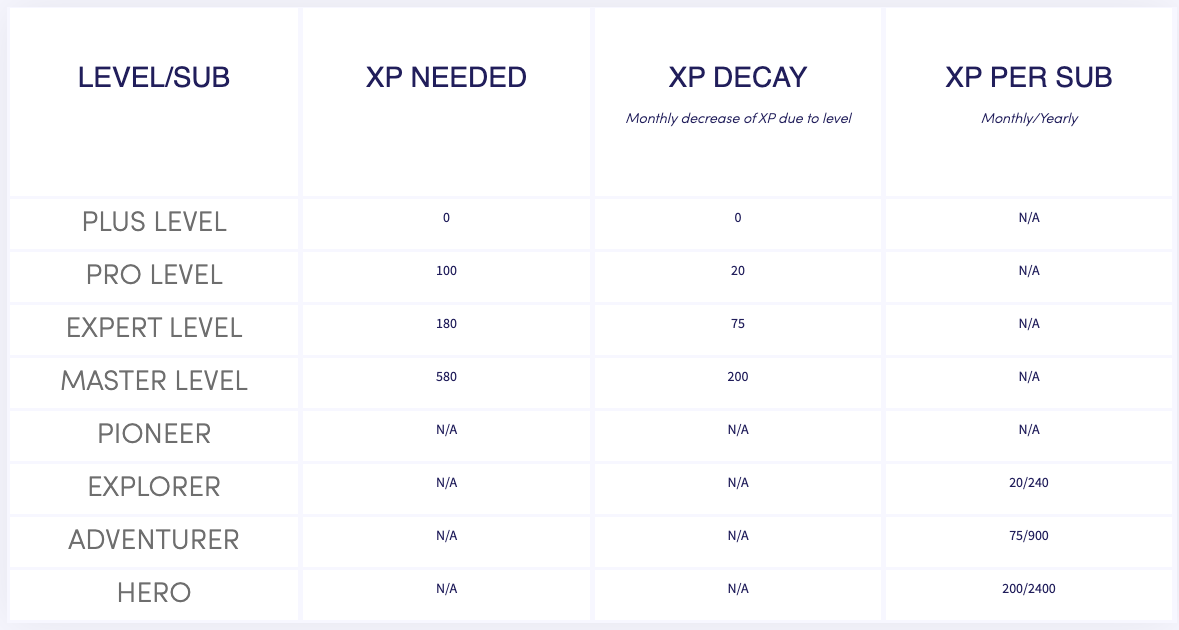 The Benefits​
There're a lot of benefits with Cryptohopper+
Partner discounts
We'll show exclusive discounts from our partners in your Cryptohopper+ Dashboard. For example, lower transaction fees on partnered exchanges.
Level shown in profile
Show off your level to your friends and followers.
Premium newsletter
Receive a premium newsletter written by Cryptohopper's analysts to stay up-to-date on the current market.
Become a Marketplace Seller
Sell your Strategies and signals on our marketplace. You can continue to use your items even if you downgrade back to the Expert level.
And more benefits
Request and vote for new features, or create new Paper Trading accounts. You can switch Paper Trading accounts in your Simulator so you don't have to reset your balance when you try something new.
Was this article helpful?