What are the different settings for adding a Copy Bot as a Marketplace Seller
This tutorial shows you the different settings when adding a Copy Bot as a Marketplace Seller.
Settings under details​
Name
Fill in a name for your Copy Bot. By default, it's set to whatever you saved your item.
Description
Fill in a description of your product, give an expected performance, and leave your contact details, recommended settings, and everything else that is important.
Price in USD ($)
Select a price. This can be changed at any time. You can't make a Copy Bot free. The minimum price is $10 while the maximum is $99. You can see how much you earn for each customer at each price level by clicking on "View all prices and proceeds".
Logo
Upload a logo. This is the front image that will be seen in the Marketplace. The logo size has to be 600px X 430px otherwise, it will not work. To change it, click on the "Change Logo" button or on the picture itself and then choose "Upload Logo".
Promo
Upload a promo. This image appears as a banner at the top of the description. The mandatory size for the promo is 1200px X 450px. To change it, click on the "Change Promo" button or on the picture itself and then choose "Upload Logo".
Social media
Fill in your social media. You can fill in your Twitter, Facebook, and Telegram channel. Although you can fill in your social media in this section, it is usually a good idea to put these in the description too.
Settings under Settings​
On the left side, you find another screen with settings.
Live
Switch the toggle and click "save" to publish the Copy bot on the Marketplace. This way it will be visible for users to download.
Show in Marketplace
Switch the toggle to disable this feature. This way you can test out a product or limit access to people who the link. When disabled your Copy Bot will be hidden in the Marketplace.

Free Trial
Switch the toggle so your Copy Bot can be used for free for users who are still in their trial period. This could be a good way to attract new customers.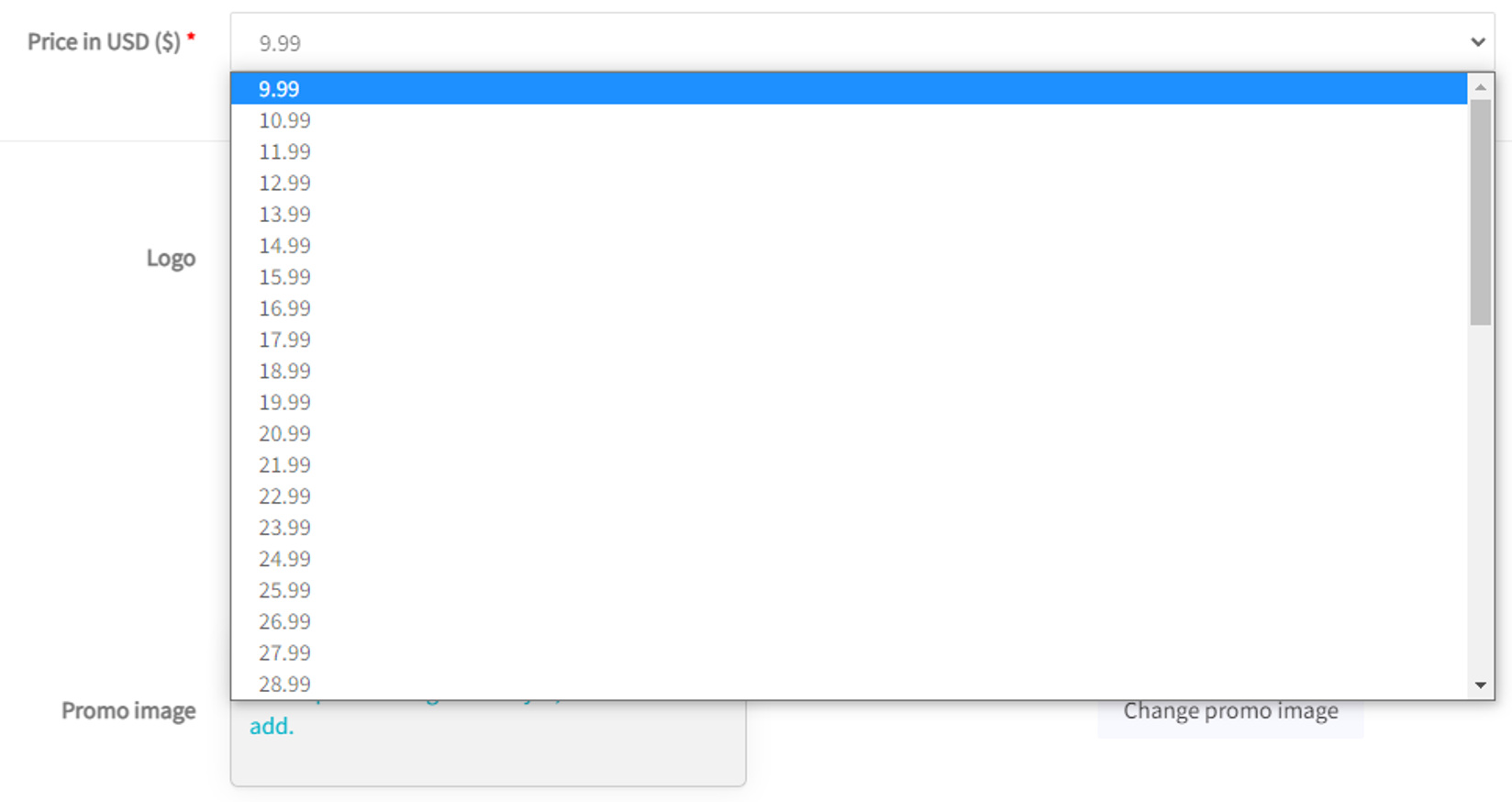 Extra information​
Maximum Amount Quote currency Warning
It is important to note that setting the maximum USDT amount allocated (or whatever your quote currency is) greater than your total assets will result in strange behavior. For example, your quote currency is USDT, and you have 1,000 USDT. You set the "Maximum BTC amount allocated" in the Baseconfig/coins and amounts to 10,000 USDT. If you then make a buy order of 1,000 USDT (which would actually be 100% of your total assets), it would actually only transcribe to a 10% buy order on your customer's accounts. This is because you only used 10% of your "Maximum BTC amount allocated", which takes precedence over your actual quote currency funds. To avoid this problem, ensure that your "Maximum BTC amount allocated" doesn't exceed your actual amount of the quote currency.
Ghost positions
These are positions that have been opened in your subscribers' Copy Bots but not in your own Trading bot. This can happen when your order didn't get filled while your subscribers' orders did. You can determine for your subscribers when to sell these positions. Selling ghost positions is a manual action to perform. Automated settings don't apply. Ghost positions will become regular open positions when a new order for the same currency gets filled in your bot. In this case, the subscribers' bots won't open a new position.
Copy Bot Restrictions and API Keys
In order to keep the statistics as realistic as possible and to avoid certain problems, we have placed some restrictions on what the Sellers can do with the Copy Bots. Once set, Sellers are unable to change the exchange they are trading on and their quote currency. For security purposes we allow you to change your API Keys. If you change the API keys and set up a new account, it will show up as a huge drop/spike in assets. That's why we don't recommend changing accounts.
The following trading features are not available for Copy Bot Sellers as they can result in managing issues in the subscribed user accounts or statistics issues in Marketplace:
Merge positions
Split positions
Remove positions
Market Orders
With the Copy Bot, you use market orders. There's no option to use limit orders. Limit orders on a Copy Bot can give some issues. For example, orders get filled on your side but not on all of your customers. Therefore they will miss some trades. This can dangerous when it comes to cutting losses. Because if your customers don't get filled and the market drops, it can lead to severe losses.
Was this article helpful?