---
FTX has rapidly become one of the biggest crypto exchanges. FTX strives to develop a platform robust enough for professional trading firms and intuitive enough for first-time users.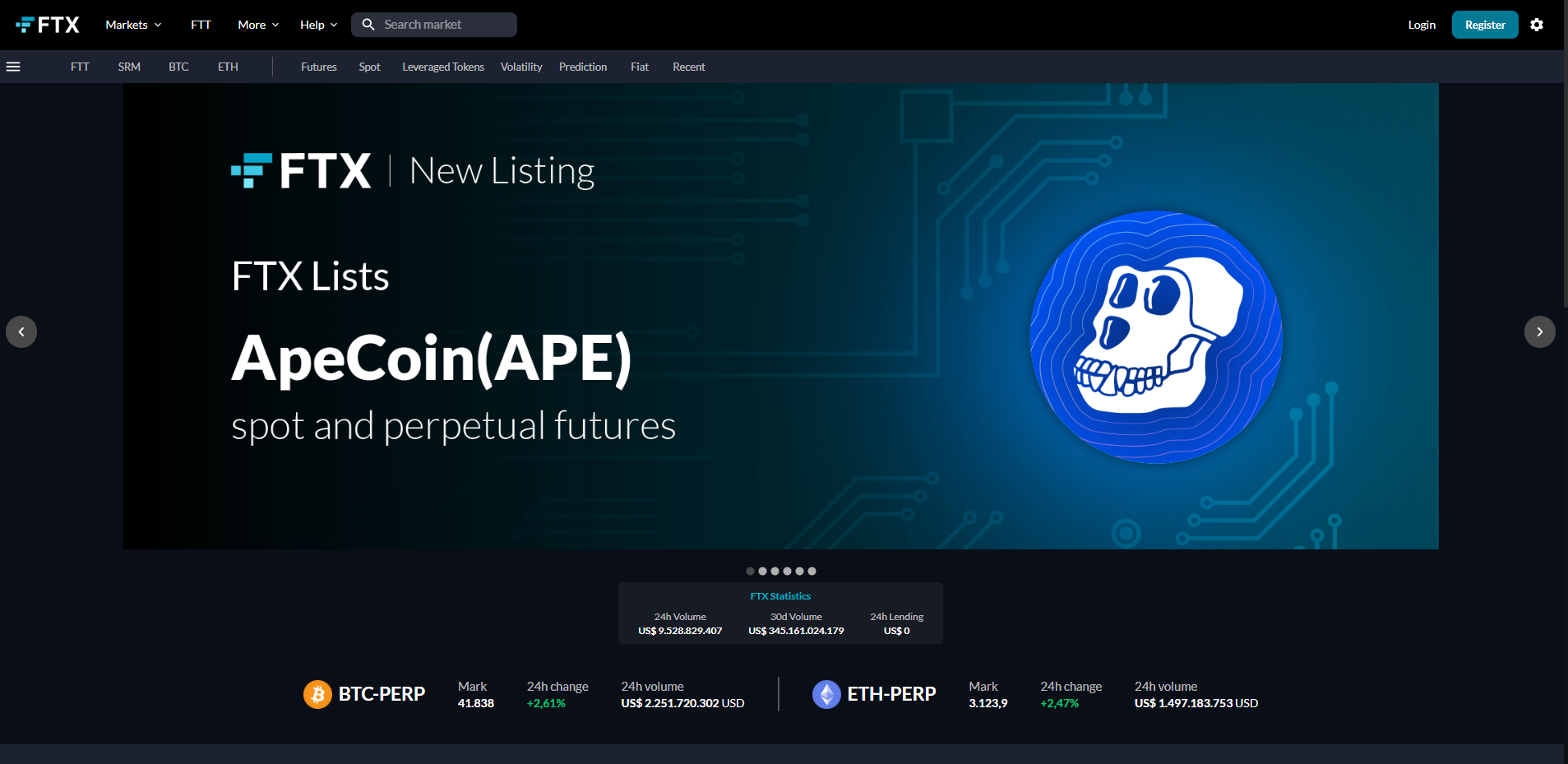 If you already have an account on FTX, click here for more info about how to create an API Key.
Create account on FTX
To create an account, go to "Register" in the top right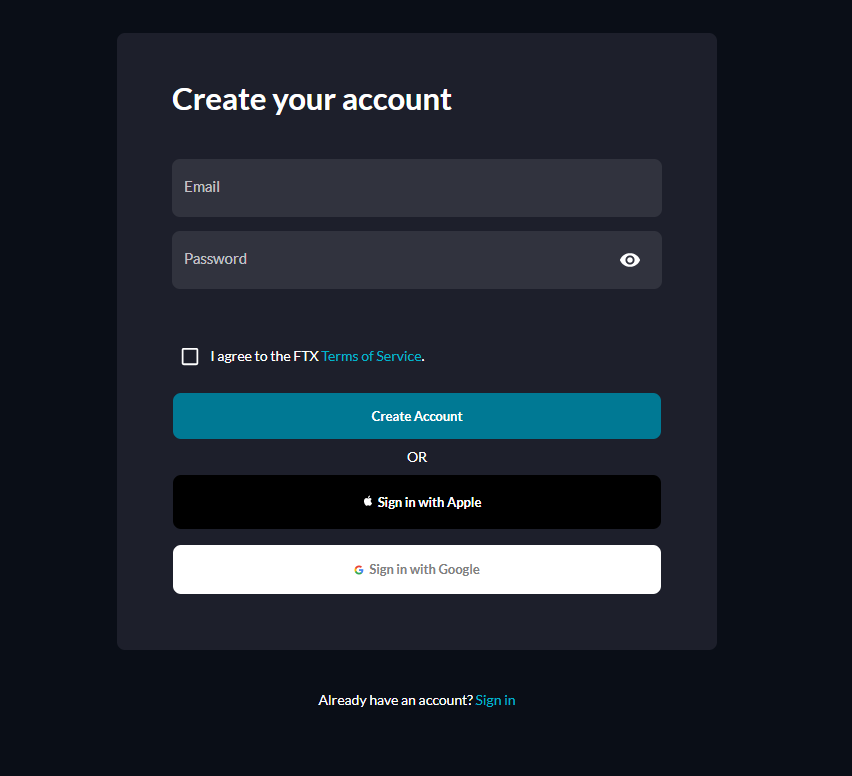 Fill in your email address, choose a unique password and agree with FTX's Terms of Service. It's also possible to create an account through social logins such as with your Apple or Google account. Next, click on "Create account".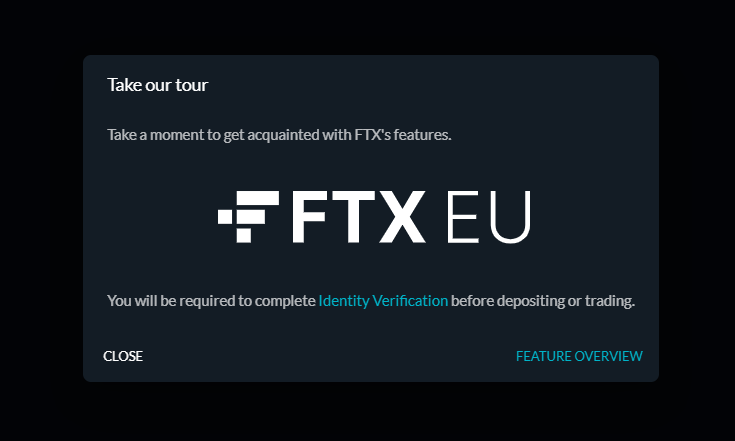 We do recommend taking a product tour to discover all features FTX has to offer. To check out the tour, click on "Feature overview".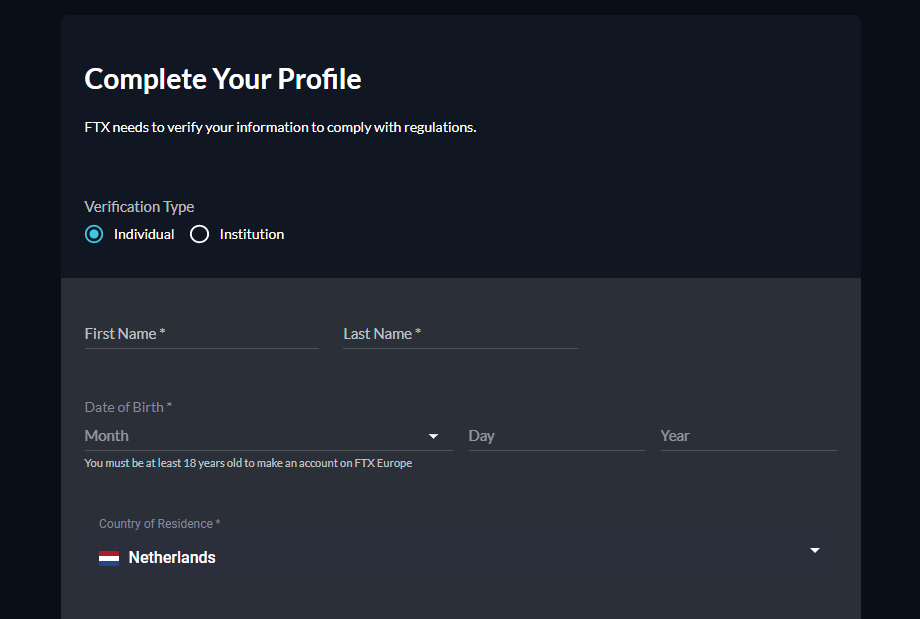 The next step is getting verified (KYC). Select "Individual" when you're a retail trader or "Institution" when you're an institution. In this tutorial, we select "Individual". Fill in your first and last name and select your date of birth. Also select your Country of Residence.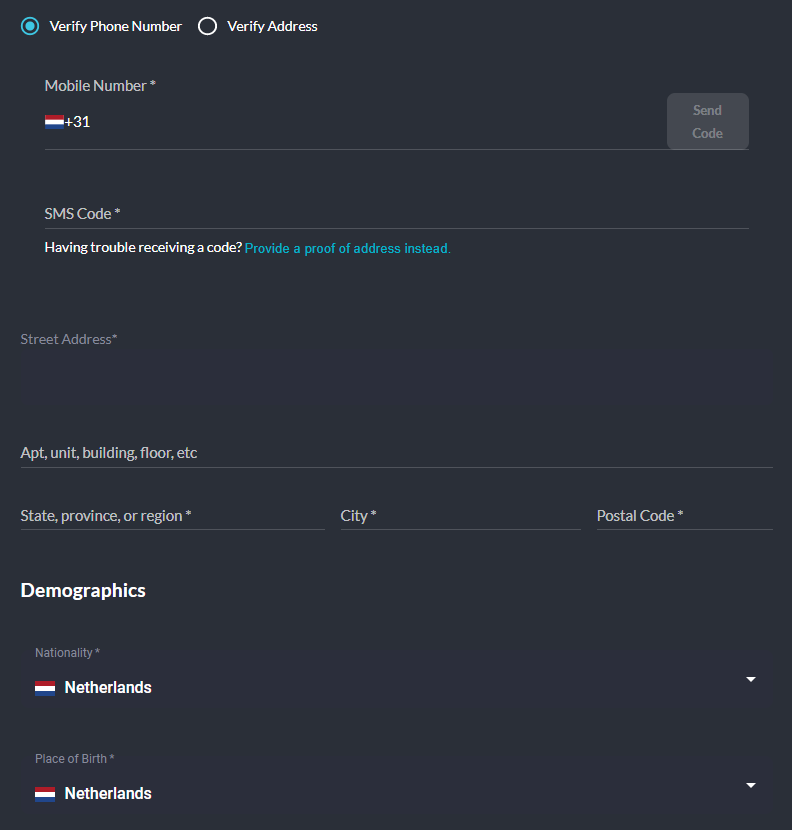 Either verify your phone number or address. FTX recommends verifying your phone number as it's usually a faster way to get verified. To verify your phone number, click on "Send Code" and enter the code you receive on your phone. Additionally, fill in your address details, nationality and place of birth.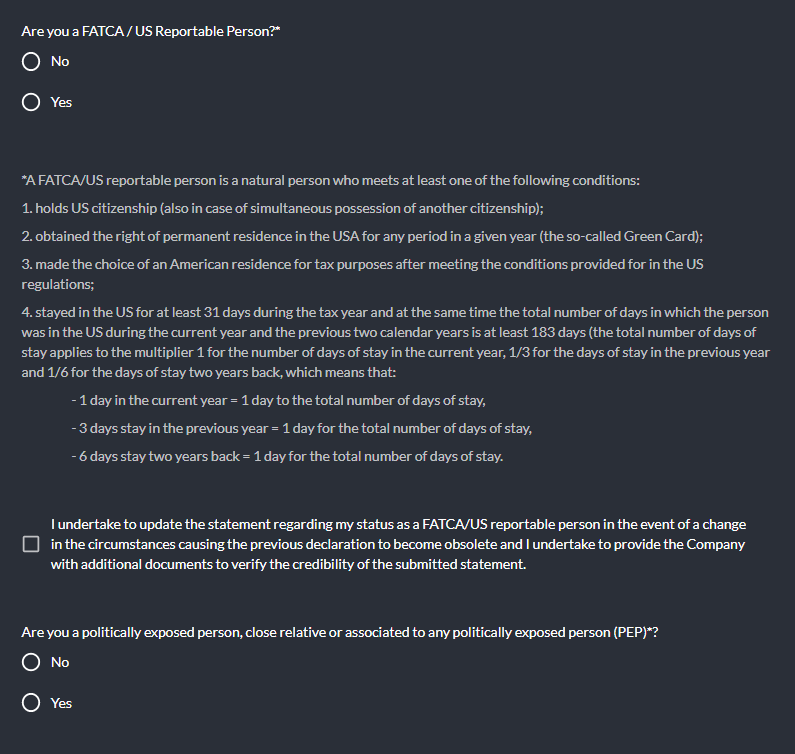 Are you a FATCA/US Reportable Person? Or are you a politically exposed person, close relative or associated to any politically exposed person (PEP)*? More details about what these types of persons entail is shown in the explanation below the "No" and "Yes" options.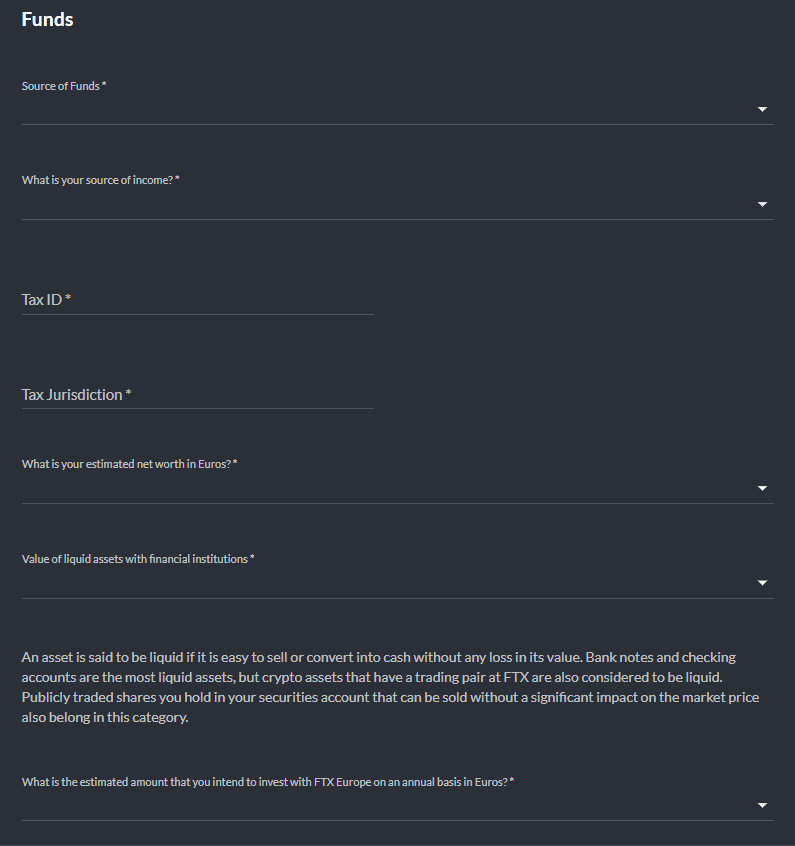 The next couple of questions are related to your source of income, tax id & tax jurisdiction, and questions about your net worth.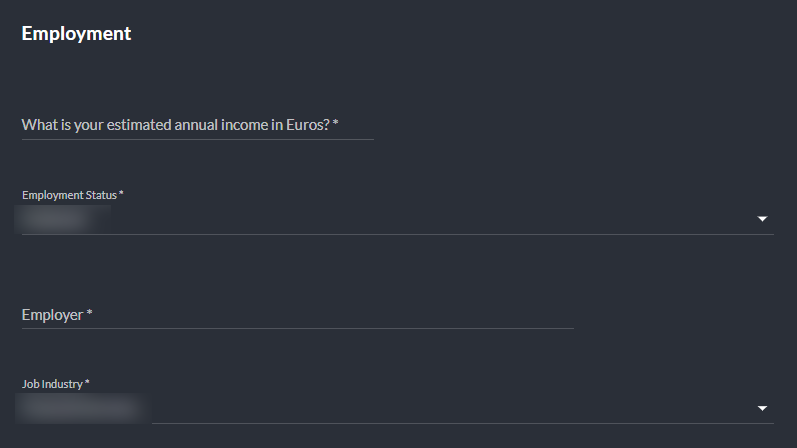 Share details about your annual income, employment status, employer and job industry.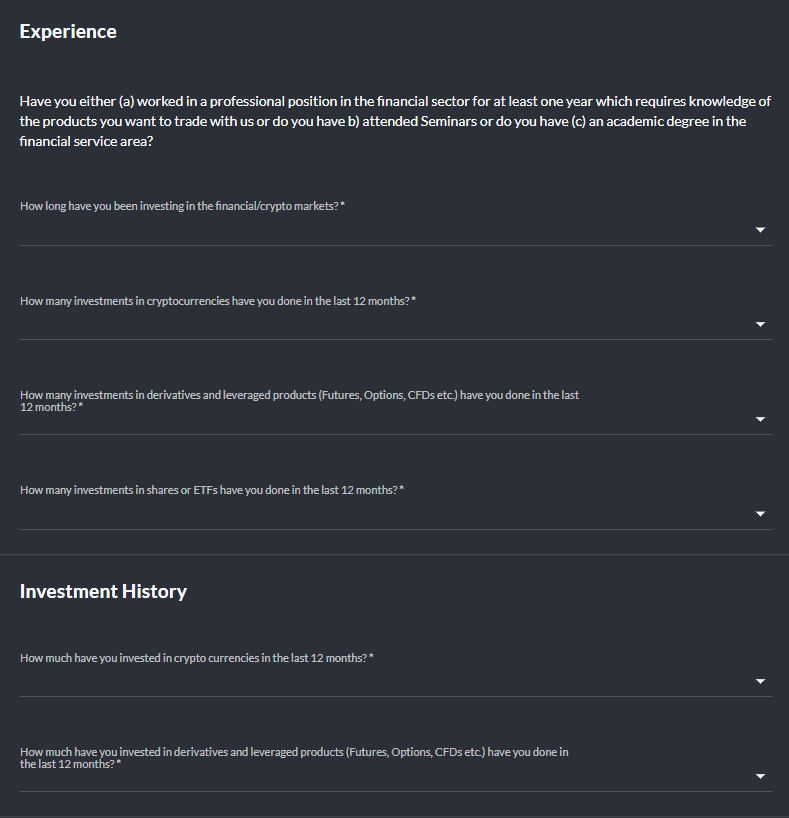 The questions regarding experience and investment history are to ensure you know the risks that are involved with trading and helps FTX create a better idea of your user profile.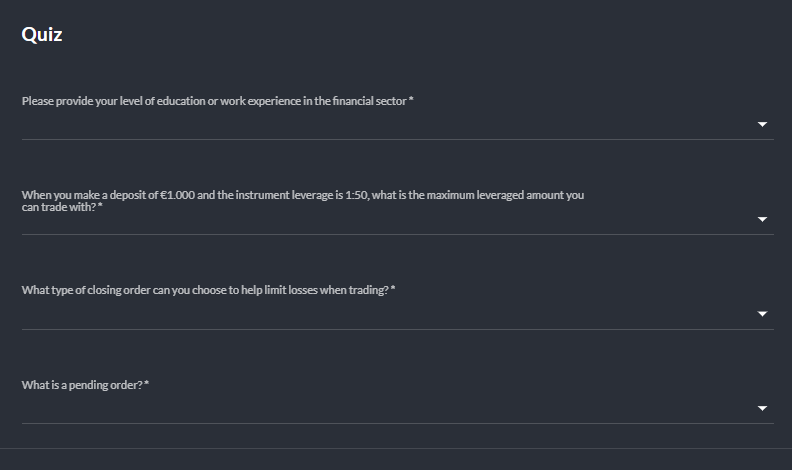 Next up is a quiz to ensure you have basic knowledge of trading.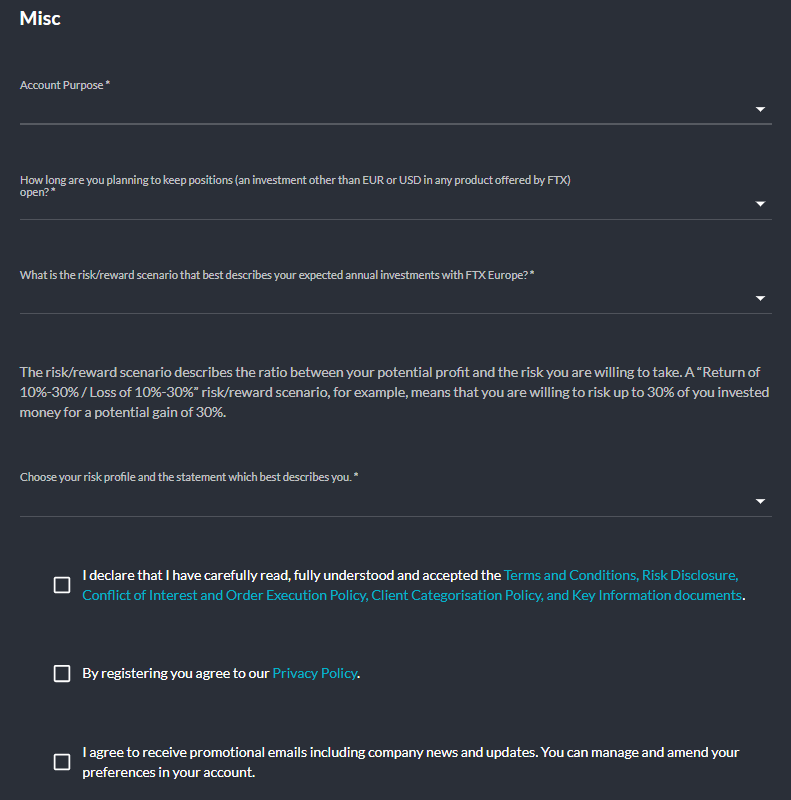 Determine the purpose of your account and answer the remaining questions about risk and rewards. Then, declare you've carefully read and fully understood:
The accepted Terms and Conditions, Risk Disclosure, Conflict of Interest and Order Execution Policy, Client Categorisation Policy, and Key Information Documents.
Privacy Policy,
(Optional) Agree to receive promotional emails.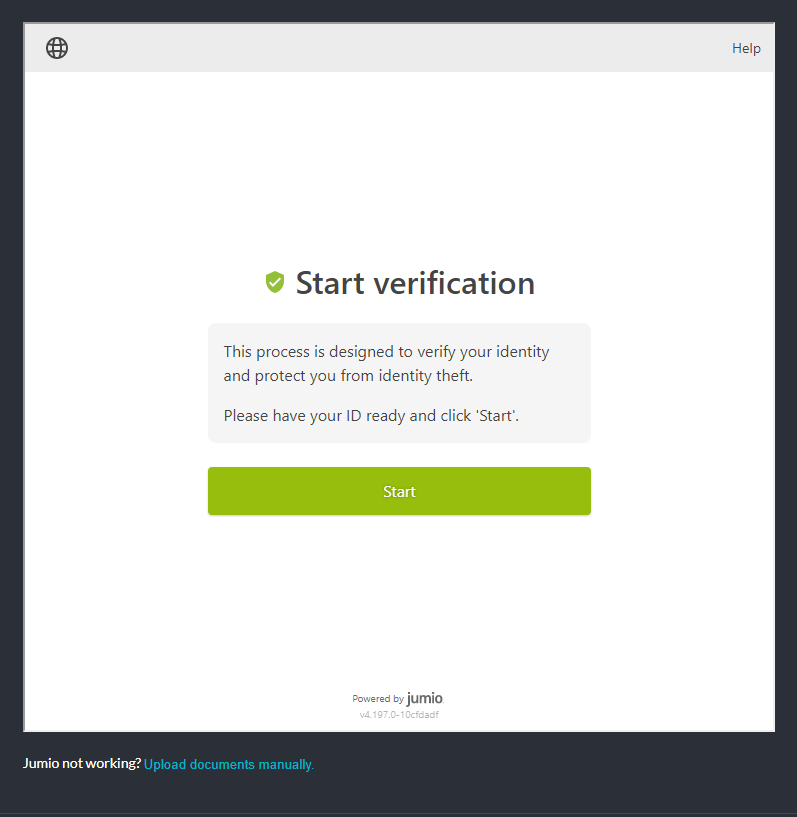 The last step is verifying your ID. If this tab isn't visible anymore, you can refresh the page. Rest assured, your previously filled in details are still available when refreshing the page.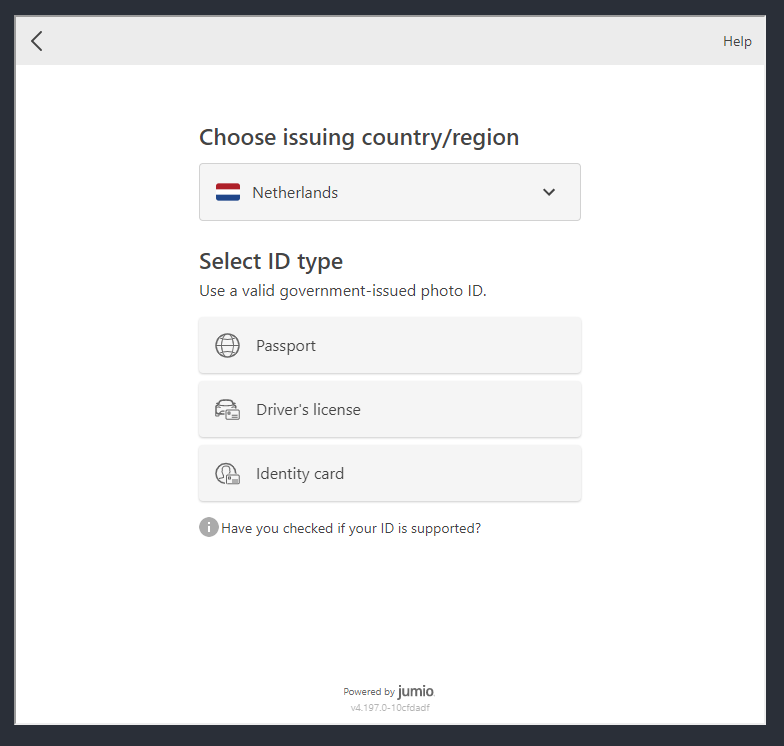 Determine which document you want to use for verifying your account. In this example, we will select "Passport". You can upload your documents with your mobile or webcam. Follow the next steps shown for either method chosen.

Once the steps have been followed, you will be directed to your browser again. It can take a few minutes before you can go to the next step.

If you don't own funds yet, click on "Card deposit".

Create API Keys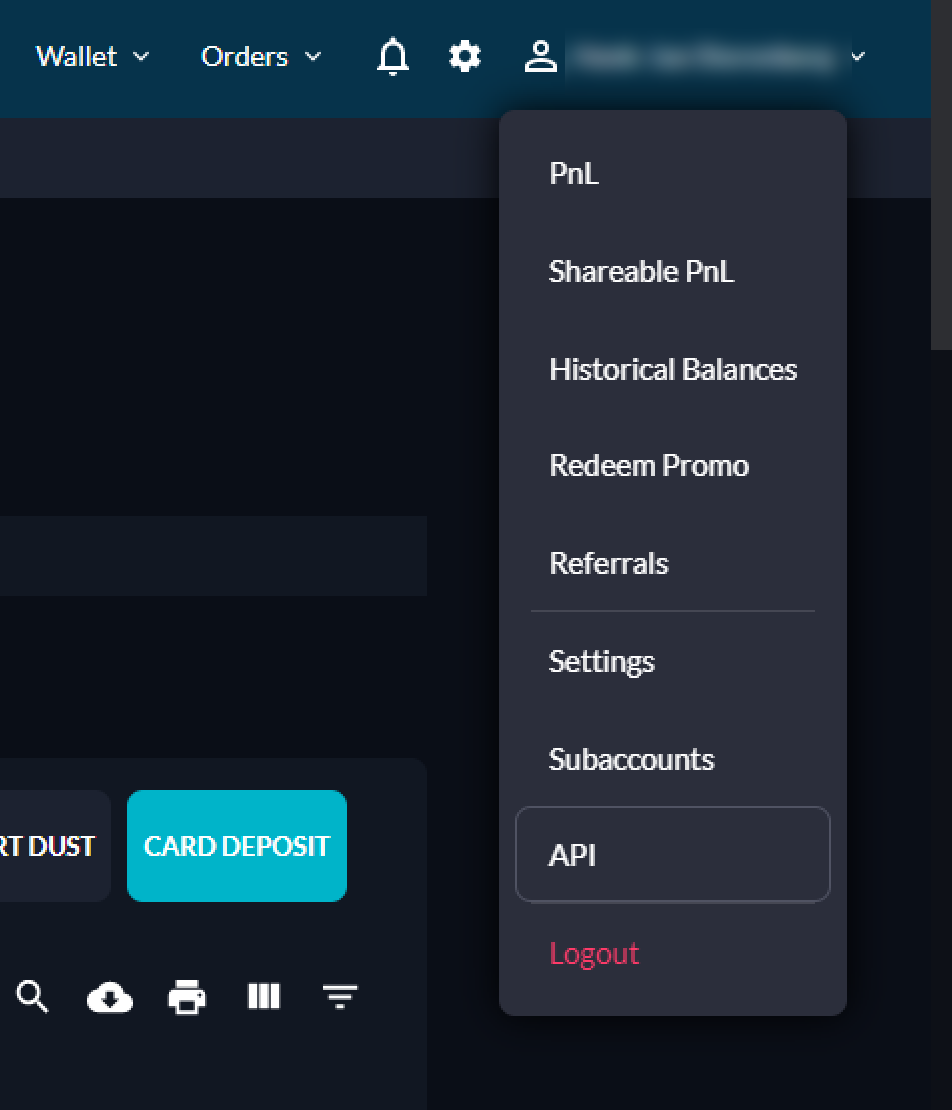 Click on your name and select "API"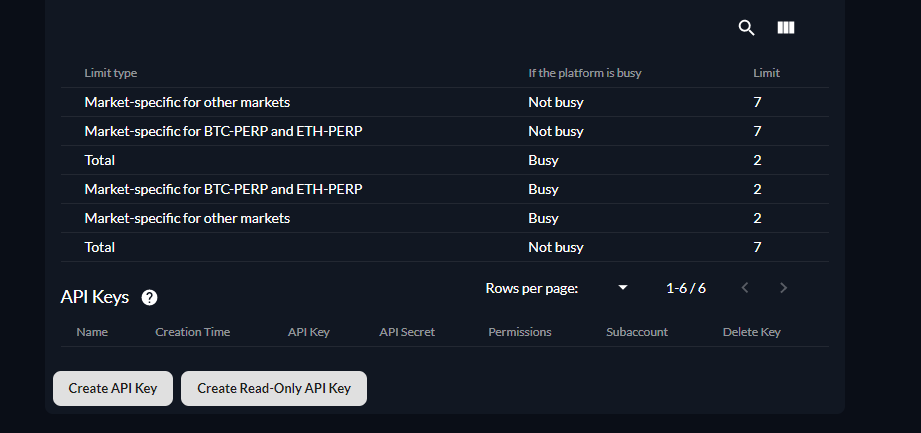 Scroll down and click on "Create API Key".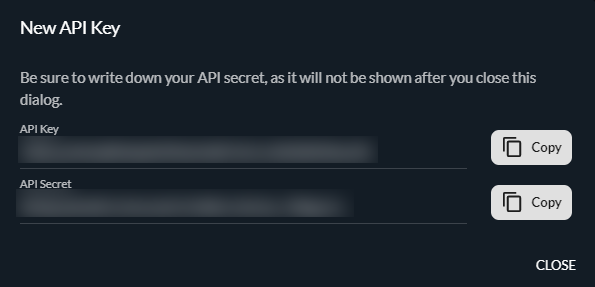 Copy the API Keys and go to Cryptohopper.

Don't forget to edit the trading permissions.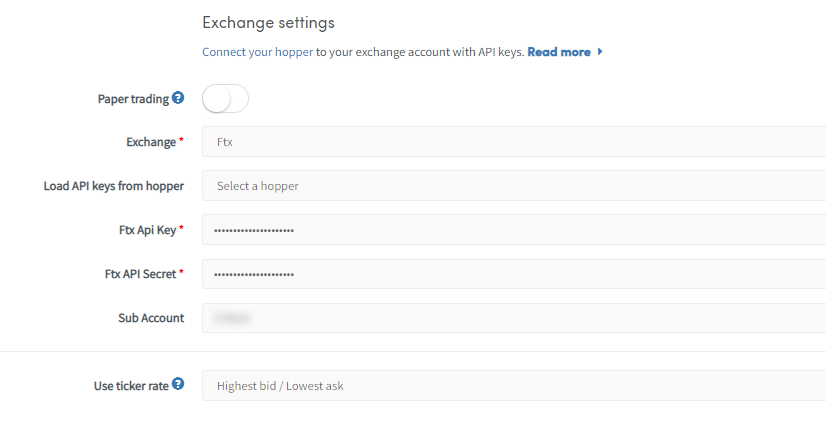 Paste your API Key and API Secret. When using sub accounts on FTX, fill in the field "Sub Account" with the name shown on FTX (optional).
Unable to see your exchange balance?
There are a few things that may prevent your hopper from synchronizing the funds of your exchange. In most cases, it is because your browser has "auto-fill" enabled.
This means that the browser fills in certain text fields themselves. There are a few things you can do to fix this issue:
Disable autofill.
Use incognito mode for your browser.
Use a browser that you don't use often.
If you use a password manager, disable this for Cryptohopper or it'll auto-fill in the passwords.
That's it! For more information on the subject, check our Tutorials, Academy, and the community forum where users share their Hopper settings.
FTX minimum trade amounts
Click here to check the minimum trade amounts on FTX
FTX Status
Do you experience issues with trading on FTX? Click here (link to become available) to check FTX's exchange status.
---
Last updated on
---
Was this article helpful?
---