---
Manage your complete portfolio with Cryptohopper, all from one place. Did you know that the basic functionality of Cryptohopper is actually free? Our Pioneer package offers free manual trading. Connect all your exchanges by creating Hoppers and linking them to your exchange accounts.

Here, we describe several ways how you can set up your portfolio with Cryptohopper and manage your portfolio like never before.

Setup

Step 1 - Register your Cryptohopper account.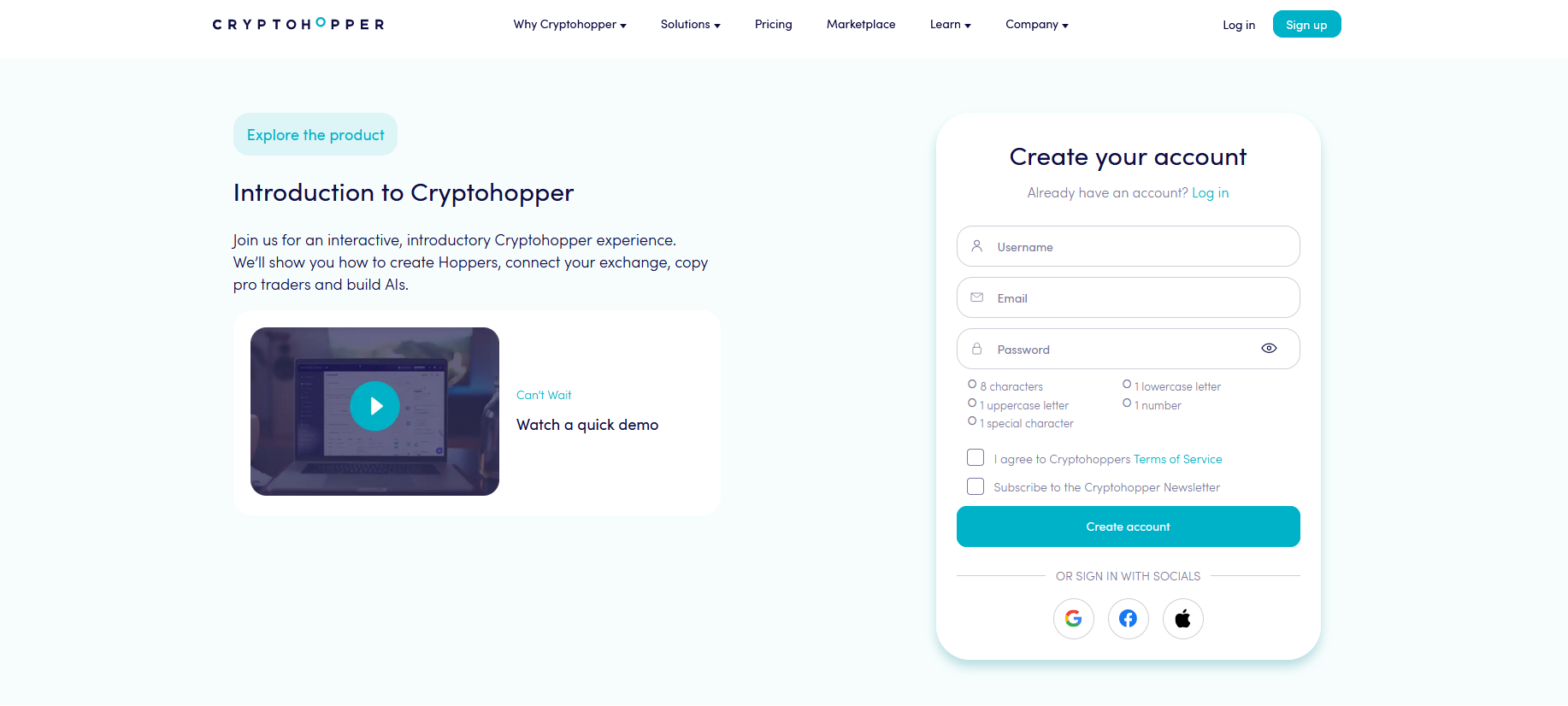 Registering is easy!
You just need a username, an email address and a password. You'll receive an activation link in your email to activate your account. If you haven't received the link, check your spam folder! It often ends up there. Otherwise ask our 24/7 chat support to manually activate your account.
Step 2 - Connect your exchange
Create a new Hopper: in the top left corner of your dashboard, click "Your Hoppers/View all Hoppers" and click the "New" button in the right top of your Hopper overview. You can also use the "Config Wizard" if you want a step-by-step guidance on creating a new trading bot. Since we want to keep it simple, we'll go for simply creating a new Hopper.
You will be prompted with three Hopper types. The Arbitrage Bot, Trading Bot and Market-Maker. We'll go for the trading bot, which you can also use as a simple portfolio manager with the free Pioneer package.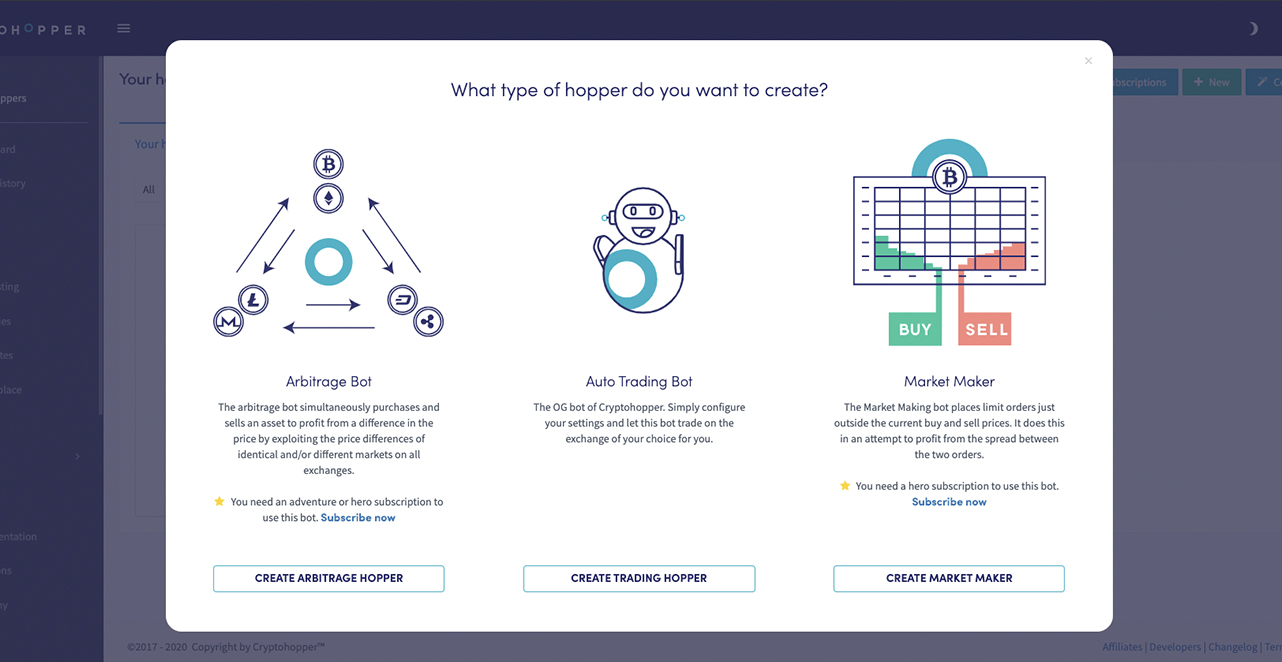 We've created templates so that you'll have a jumpstart. Choose the exchange you want to trade on and which currency you are going to use to invest in other currencies. We call this your "Quote currency". Make sure that you actually have these funds on your exchange/paper trading exchange or your Hopper will not be able to buy anything! (This a common made mistake.)
Please note that your exchange doesn't necessarily offer all currencies (trading pairs) for all Quote currencies.
BTC often has the most trading pairs. If you simply want to track your investments, choose BTC as a Quote currency so that you can import and track the performance of all currencies. If you want to have a stable baseline to measure your profit/loss from, choose a stable coin like USDT. Remember, if you sell your positions you will exchange them for your quote currency! Make sure it is one that you actually want to hold.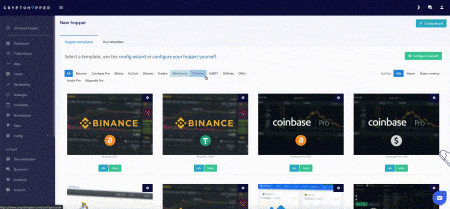 If you want to connect your exchange, you will need to create API keys. These are created in your exchange account, and you will have to give the API key "View" and "Trading" rights. Please do not give "Withdrawal" rights. For more information on how to exactly create your API key on your specific exchange, click here.
Yes you did it! You've created your Hopper!
There are just a few small things left to do. Make sure to adjust the start balance, so that your profit calculation is correct. Please do not use the ".. INVESTED & TOTAL .. RETURNS". These are only handy if you're also using other tools on your exchange account (not recommended).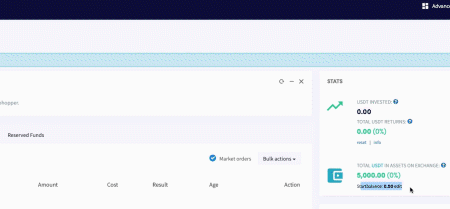 You probably already have investments on your exchange account, since you want to track your portfolio. Go to "Current Assets" on your dashboard and import them. Make sure to fill in the price you've bought them for! You can find this in the trade history of your exchange account.
You've connected and set up your first portfolio manager. Well done! Now repeat the process with the other exchange accounts you want to track.

In the next section we explain how you can manage your portfolio.

Managing your portfolio with Cryptohopper.
Simple#
If you just want to track what you already have, there's actually not much you have to do. Just switch your Hoppers to see your positions. You can access the stats page to see how a Hopper is performing. Sell positions directly from your dashboard if you need to.
Using the Advanced View (Recommended)

Access the Advanced View by clicking the "Advanced View" button on the top right on your Dashboard. A detailed explanation of the Advanced View can be found here.
This view offers everything that your exchange has, but it makes it way easier to track your investments since your positions are also shown. Easily place manual buy/sell orders and check the charts.
Users with an explorer subscription or higher assigned to this Hopper, can even directly use features like a Take-Profit, Stop-Loss, Trailing Stop-Loss and the Trailing Stop-Buy while placing their order. Tools like Shorting and DCA can be done directly in this view as well. Click the links on the features to get an in-depth explanation of what they do.
Our unique Advanced View even shows an order book where you can literally drag and drop orders. How cool is that!
Want to manage another exchange account? Just go to "View All Hoppers" dropdown, select and select another Hopper.
This functionality is unique compared to exchanges and shows why trading with external software is vital for a trader who wants to be successful.
---
Last updated on
---
Was this article helpful?
---