What is on the Dashboard for the Trading Bot in the app
This tutorial shows you what you can find on the Dashboard for the Trading bot in the iOS or Android app.
What to find on the Trading bot Dashboard​
Orders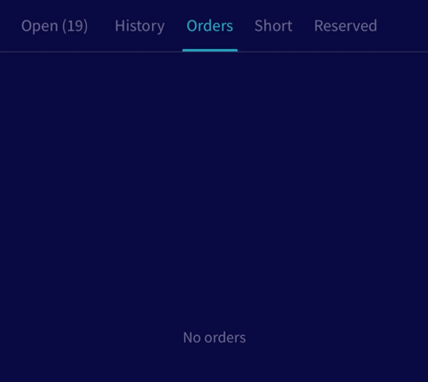 Here you find all the active orders that are currently being used by the bot.
Activity
Here you can find what your bot is doing. When the bot is active, it's waiting for the next activity to be checked.
Output
Click on the Activity so you can see your Output. This is the place where your bot is "speaking" to you. It will tell you if it encounters any errors or problems.
Open Positions
Here you find all current open trades. Click on an open position to get more information about the position.
Short Positions
Here you find all the current open short positions. The short positions are positions that only exist on Cryptohopper, not on the exchange.
Reserved Funds

Here you find all the current reserved funds. You can use your Reserved Funds as your saving account. You can move open positions or your quote currency into the Reserved Funds tab. This will prevent your bot from interacting with them until you release them or move them to open positions.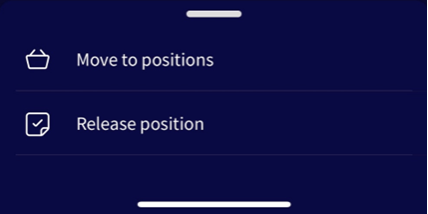 You can move a position directly into the Reserved Funds tab by clicking on the position under the "Open" tab. Click on the 3 dots in the upper right corner. There you can click on "Reserve funds".
You can release your positions from "Reserved Funds". There're 2 options. You can choose to "Move to positions", which will move your reserve funds position back to your open position. You can release your Reserved Funds positions. This will move your Reserved Funds into the assets section. Your bot won't sell these funds. Keep in mind that when "Auto-sync" is enabled on the Dashboard, the funds will be shown as a new open position.
Synchronize
Click on the button you see below to synchronize.
In the synchronize menu, you can synchronize positions that you have open on your exchange and not in your bot. When you synchronize your assets, your bot will convert your holdings into a position. Your bot will use the current price as the buy price. It will convert your holding into an open position at 0%. If you've bought the asset for another price and want a correct profit calculation, make sure to fill in the right buying price in the "rate" section.
To synchronize a currency, click "Sync" for that position. You get a pop-up if you want to synchronize the position. Click "Sync".
Was this article helpful?