---
There are two ways of creating new Hoppers: the fast way, or through our guided "Config Wizard," which is a step-by-step approach that allows complete control over your Hopper's configuration.

Let's speed through the fast one first.

Create a new Hopper (Fast)

To create a new Hopper in the left top of your dashboard, click "Your Hoppers/View all Hoppers" and click the "New" in the right top of your Hopper overview.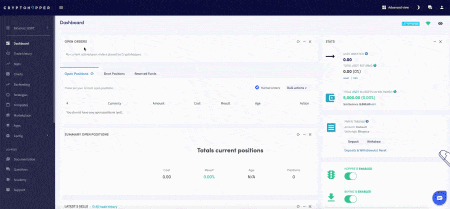 We've created a few templates so that you'll have a good starting point. You will be prompted with three Hopper types: the Arbitrage Bot, Trading Bot, and Market-Maker. We'll go for the trading bot.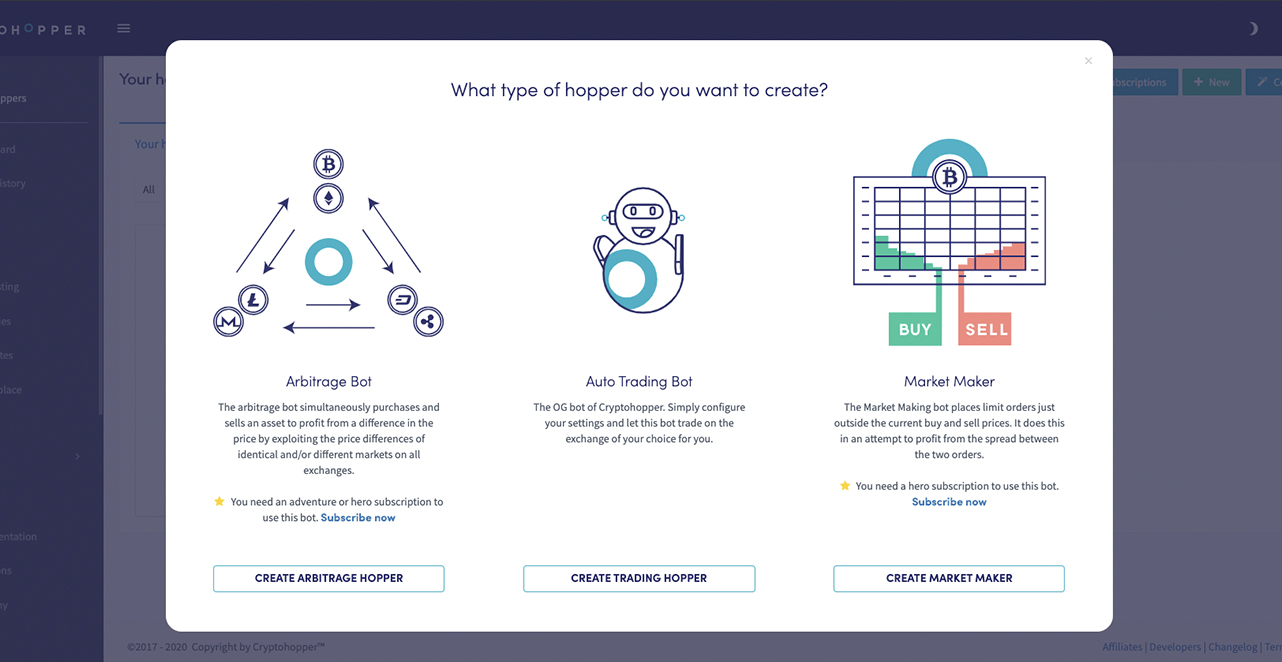 Choose the exchange you want to trade on and which currency you are going to use to invest in other currencies. We call this your "Quote Currency". Make sure that you actually have these funds on your exchange/paper trading exchange or your Hopper will not be able to buy anything! (This is a commonly made mistake.)
Please note that your exchange doesn't necessarily offer all currencies (trading pairs) for all quote currencies. BTC often has the most pairs, but can be harder to trade if you're a beginner.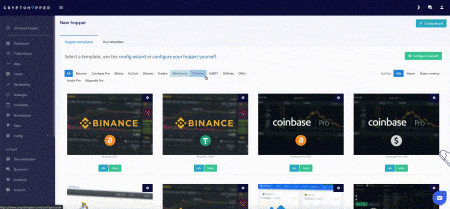 Now's the moment to choose. Are you going to trade for real on your exchange, or are you going to create another paper bot?
Creating a simulator, or paper bot, is simple. Just toggle the "Paper Trading" switch. If you want to connect your exchange, then you will need to generate API keys. These are created in your exchange account, and you will have to give the API key "View" and "Trading" rights. Do not give "Withdrawal" rights.
For more information on how to create API keys on your specific exchange, visit the "tutorials" documentation page.
Congratulations, you've created your Hopper!
Make sure to adjust the start balance, so that your profit calculation is correct. Please do not use the ".. INVESTED & TOTAL .. RETURNS" setting. These are only handy if you're also using other tools on your exchange account (which is not recommended).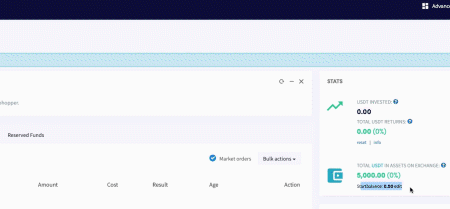 (Paper trading only) Deposit your fake funds for those who use paper trading. Click "Deposit" and deposit fake funds that correspond with your quote currency.
If you already have investments on your exchange account that you'd like to import, go to "Current Assets" on your dashboard and import them. Make sure to fill in the price you bought them for! You can find this in the trade history of your exchange account.
From here, the possibilities are endless! You can use Cryptohopper to manage all your accounts from one place, or auto-trade by copying an expert, or are you going to set it all up! Read on to review our Config Wizard and how it creates a new Hopper tailored to your needs.

Create a new Hopper (Config Wizard)

Another way to create a new Hopper is with the "Config Wizard". This wizard is a guide that helps you to set up your Hopper/Simulator step by step.
Click the Config Wizard button in the top left of "Your Hoppers" overview to enter the wizard. And then click "Start Wizard".
Select the exchange that you want to trade on. We're going for one of our partners, Bybit, for this tutorial.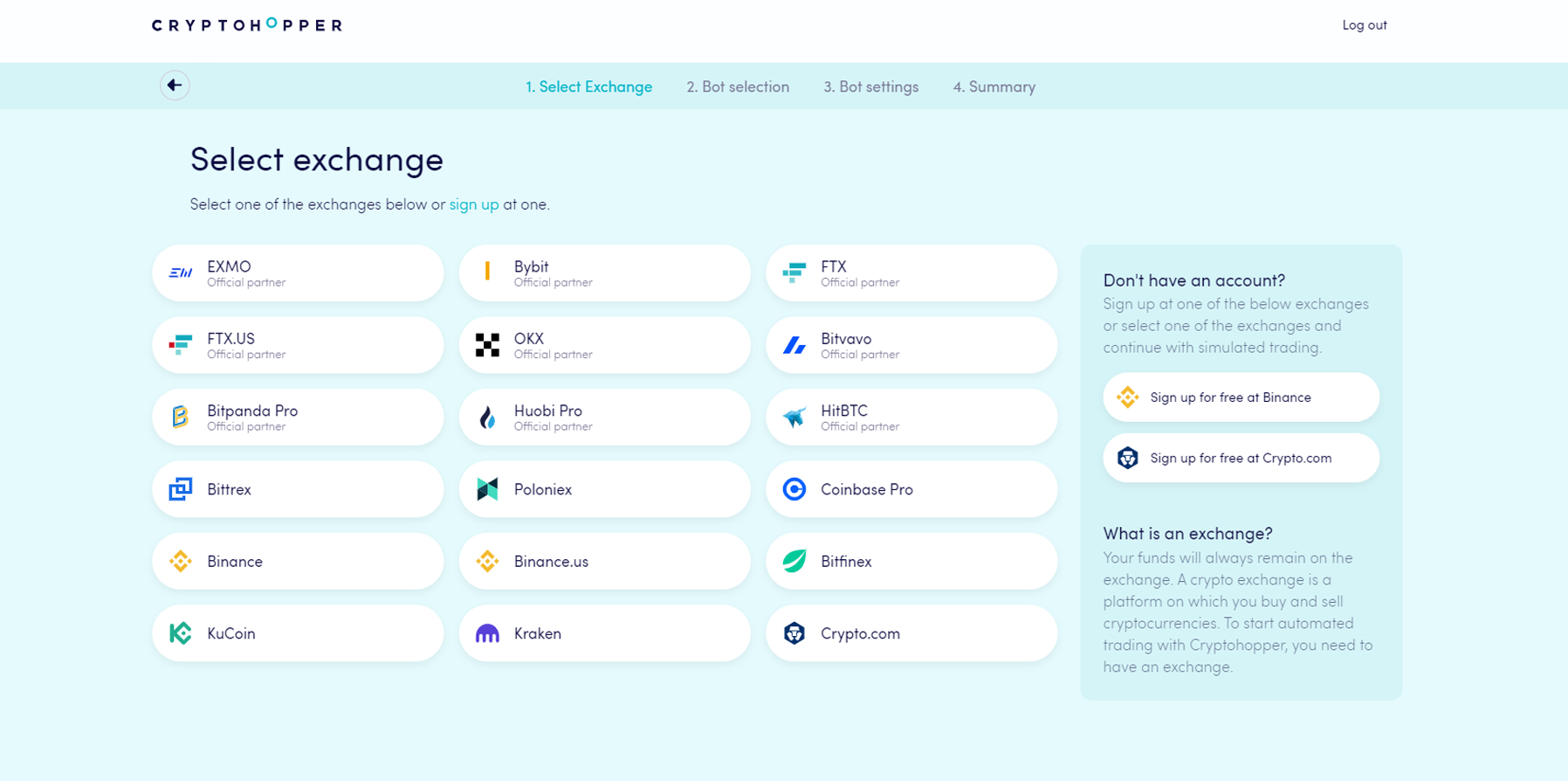 Next, paste your API keys so that your Hopper is connected to your exchange, or enable paper trading. You can always convert your simulator to a Hopper, so if you want to continue, enabling paper trading is the fastest option. For those who don't know where to find their API keys on their exchange, visit our tutorials page.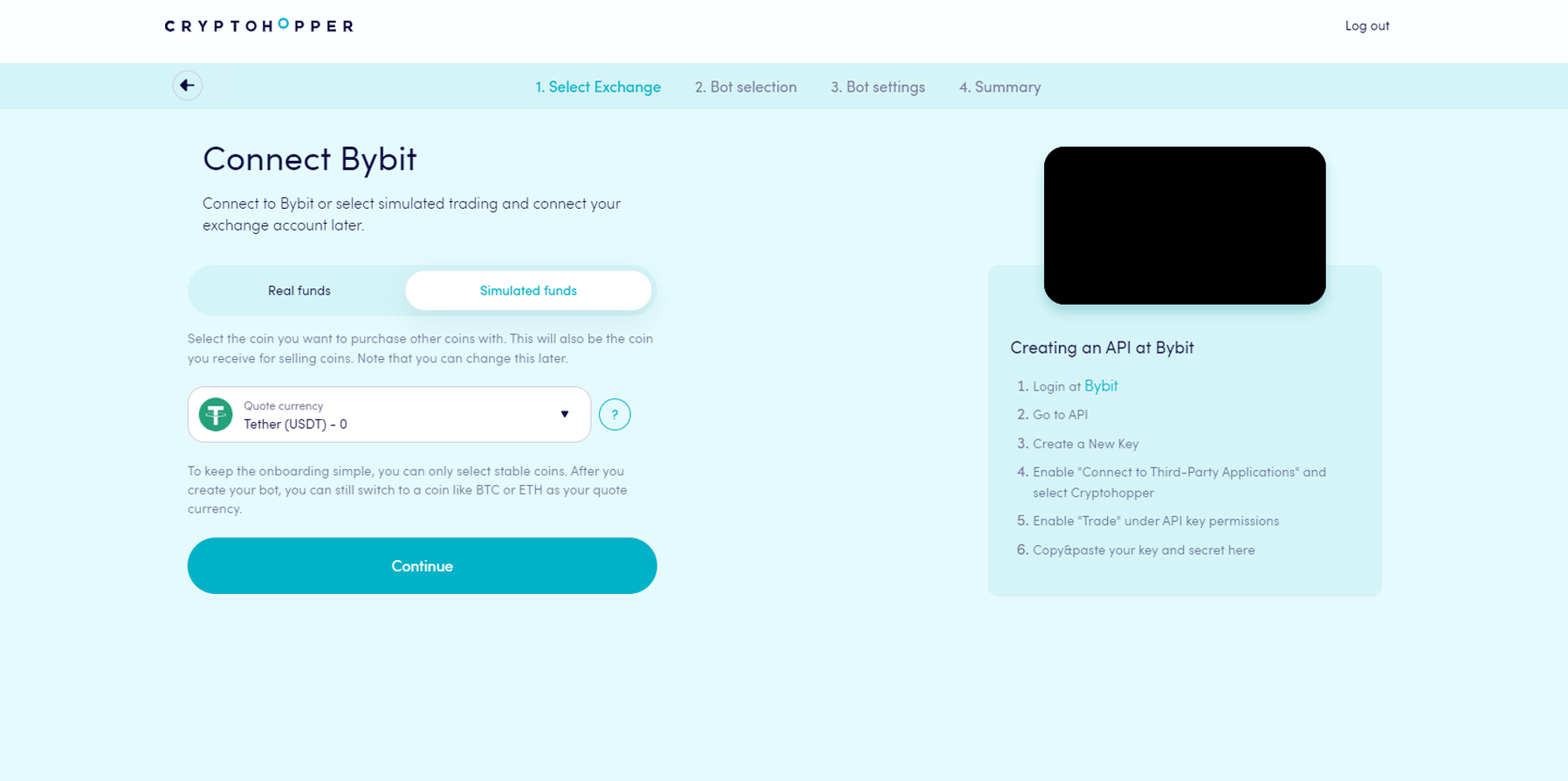 Now we arrived at the exciting part of the Config Wizard: choosing to copy a signaler, or set it all up yourself! In this tutorial, we cover how to "Subscribe to Signals", but if you're more experienced, we advise you to "Configure Yourself".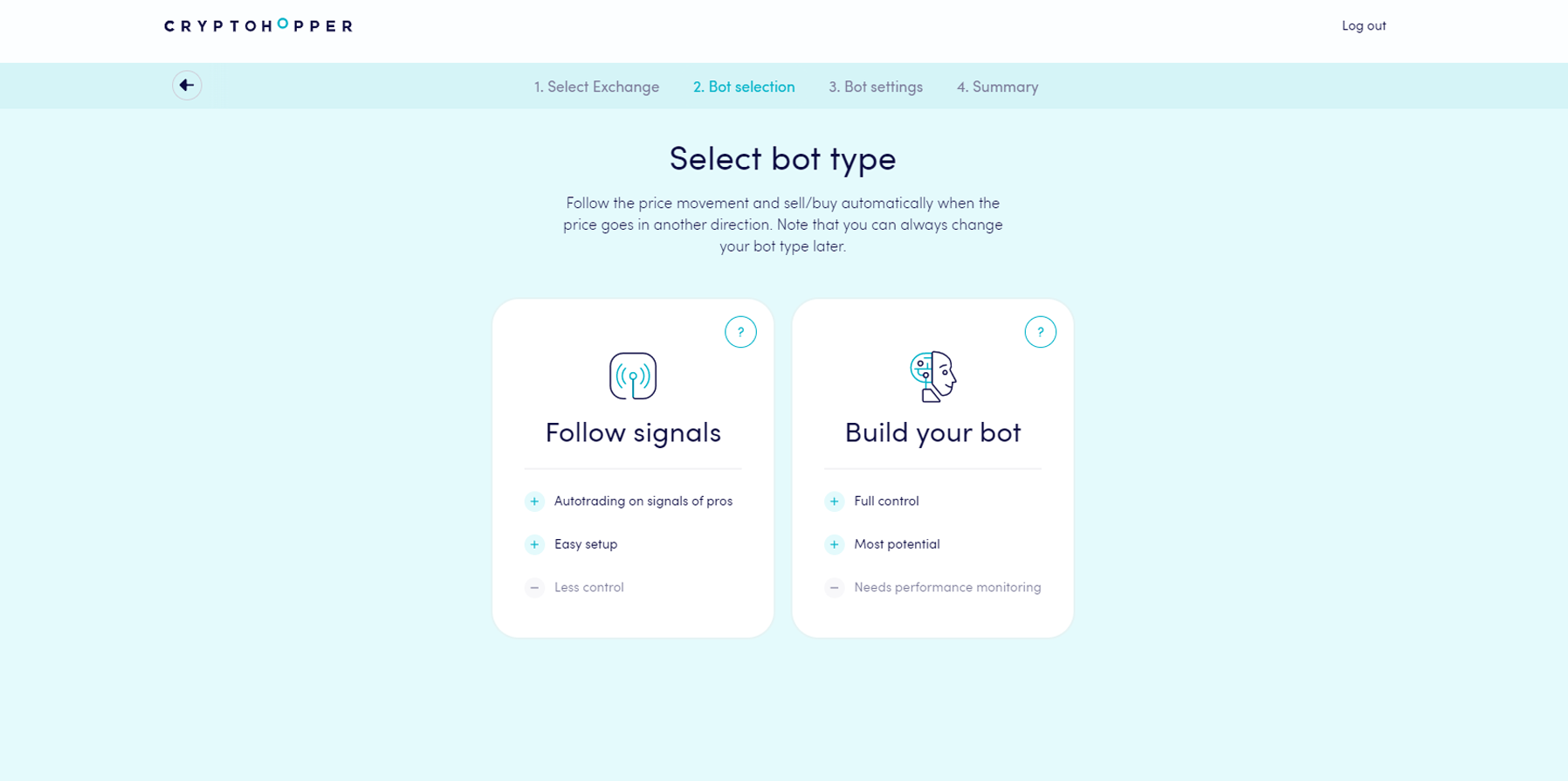 Signals are trading signals that influence your Hopper. They're sent by third-party experts that do technical analysis for you and send out signals when they think it's time to buy. You can view their reports to see the kind of exchanges they use and pairs they send signals for.
Signalers do not send signals for every pair and exchange! Ensure that the signaler you've picked sends signals for the quote currency and exchange that you've selected. We'll go for the free signals from "Momentum Free Scalping".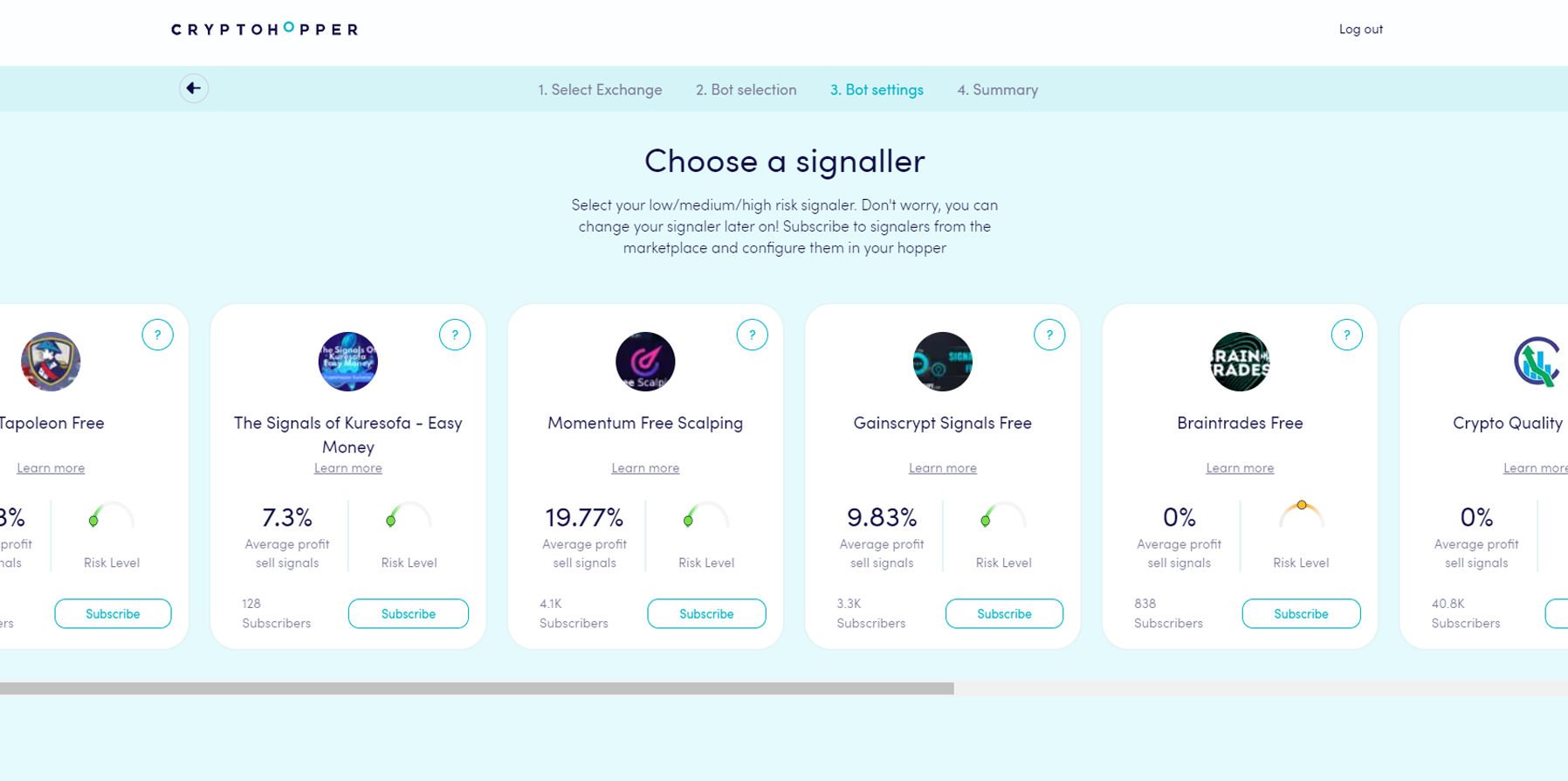 Click "Subscribe" and you're done! You've done it all by yourself and you should have a better understanding of the potential of your Hopper. Great job!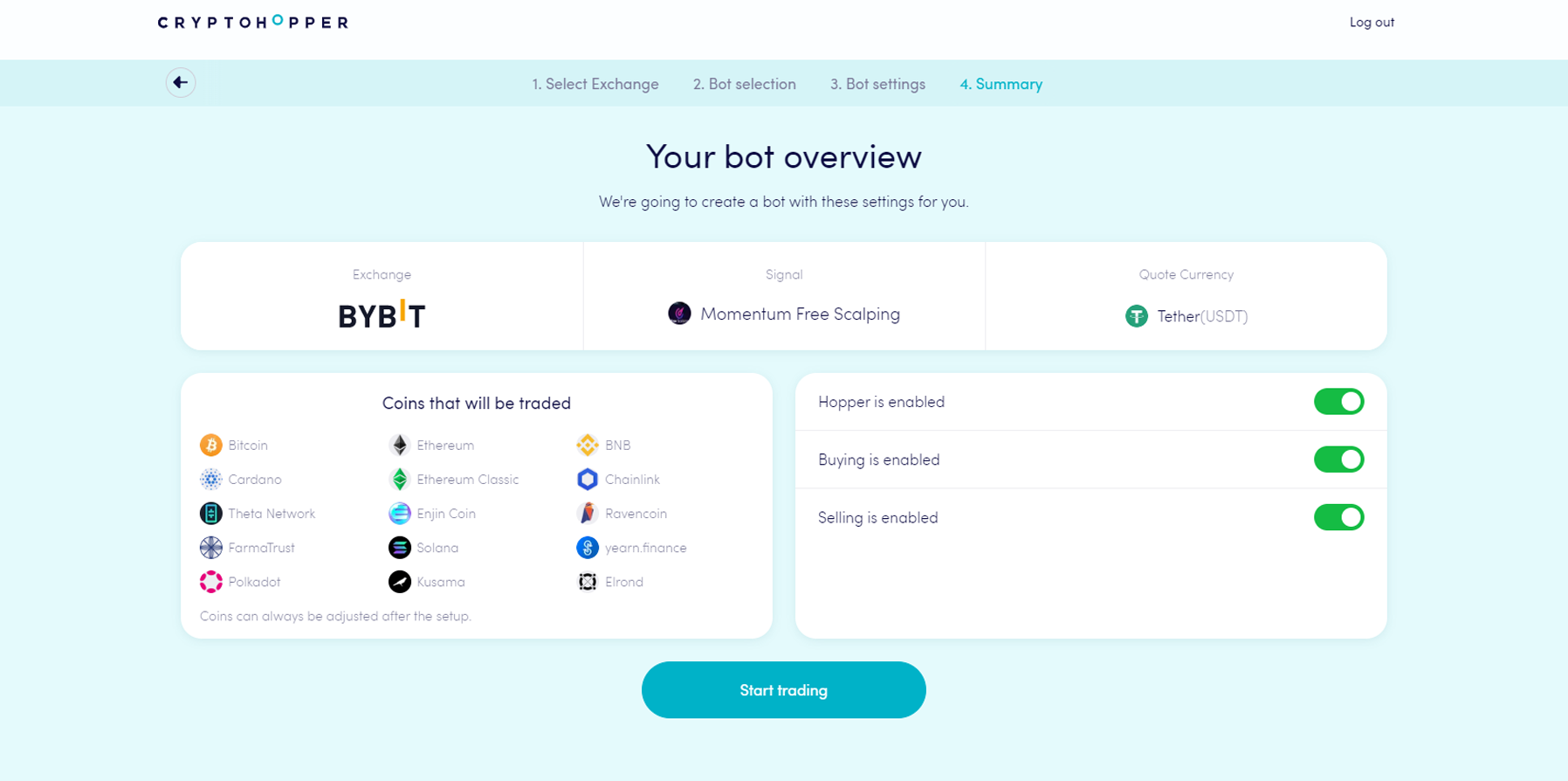 ---
Last updated on
---
Was this article helpful?
---