---
Marketplace Seller Guide

Application If you have what it takes to become a marketplace seller, you can apply through the following link https://www.cryptohopper.com/pro-traders

Click on apply now and complete the application.

We only accept non-master level applicants in exceptional cases. Therefore you will need to have an active community and a proven track record. We are very selective in who we allow to become a marketplace seller, as quality and integrity are our main priorities.

Terms and Conditions This page outlines the rules you must adhere to as a marketplace seller. Breaking any of the rules outlined on the page will result in a warning and a ban.

General Pointers
Be truthful. Always tell the truth and don't make promises you cannot keep. Do not state "2% daily profit guaranteed" if you cannot stay true to it.
Be contactable. New traders usually like to contact marketplace sellers and ask for more information about the products. Therefore leaving your email, discord group, telegram group is always a good idea.
Be civil in your conversations with the users and help them grow as traders; they will appreciate it.
Strategies A strategy is a combination of technical analysis indicators and candlestick patterns that work together to provide entries into the market and exits (depending upon how you configure it). To find out more information about what a strategy is and how to create it, check our documentation on the Strategy Designer section.
Templates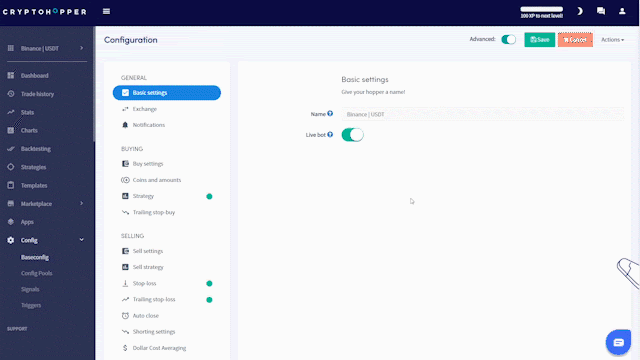 These are essentially the settings of your hopper and can be found in your config section. To learn more about each of these settings, we recommend reading our documentation about the Base config.
After you have set your config, make sure to save the template. You will need to save your template to be able to upload it to the marketplace. Please note that saving your template will also save your baseconfig, triggers, config pools and even signal subscriptions.
Posting a strategy/template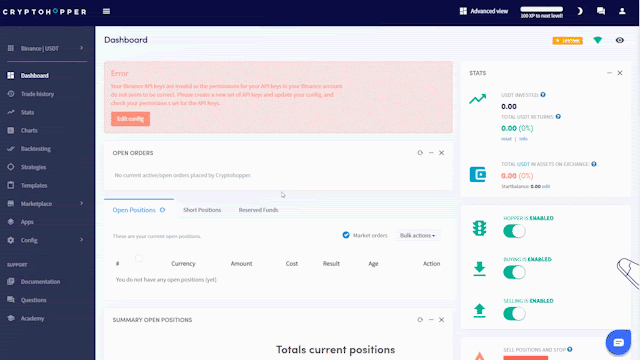 You can follow the steps below to publish a strategy or template on the marketplace:
Go to Marketplace/Marketplace Items
Click on "New Item" in the top right corner of the screen.
Select Strategy or Template (depending on what you wish to post).
Choose the strategy or template you desire and hit continue.
Name: Simply choose a name for your strategy/template. By default, this will be set to whatever you have saved your item.
Description: You can use this space to describe your product, give an expected performance, leave your contact details, recommended settings, and anything else you deem important as long as it adheres to the rules stated above.
Price in USD ($): In this section, you can determine your product's price. If you click on "View all prices and proceeds", you will be taken to a menu to see how much you win at each price level after deducting Cryptohopper's fee.
Logo: This is the front image that will be seen in the marketplace. The logo size has to be 600px X 430px otherwise, it will not work. By default, you will have the logo that you had selected in the strategy designer. To change it, click on the "Change Logo" button or on the picture itself and then choose "Upload Logo".
Promo: This image appears as a banner at the top of the description. The mandatory size for the promo is 1200px X 450px. To change it, click on the "Change Promo" button or on the picture itself and then choose "Upload Logo".
Social media: Below the promo image, you have social media that you can fill in. You can currently fill in your Twitter, Facebook, and Telegram channel. Although you can fill in your social media in this section, it is usually a good idea to put these in the description too.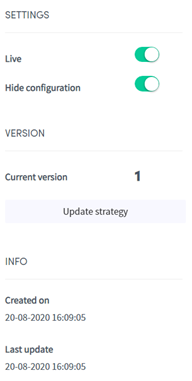 Settings: On the left-hand side of the screen, you have the settings which consist of the following options: "Live", "Hide configuration", and "Update strategy". Let's now go through each of them and see what they mean.
Hide configuration: If you enable this option, the users who download this strategy will not be able to see what is inside, such as what technical indicators and candlestick patterns you used, what timeframes, required signals, etc. Only the name and description will be visible.
Live: Make sure to enable this option and click "save" to publish the strategy on the marketplace and make it visible for users to download.
Update Strategy: Use this option when you want to update your strategy/template. Please make sure to give enough information in the text provided with each update.
Info: In this section, you can see when the strategy was first created, and when it was last updated.
Commissions and Exclusivity Cryptohopper takes 30% of each sale as commission. You can view exactly how much you win with each sale by clicking on "View all prices and proceeds".
You can lower this amount to 15% and gain other perks by becoming an exclusive marketplace seller. To find out more information about becoming an exclusive marketplace seller, please send an email to mihai.stoica@cryptohopper.com.
---
Last updated on
---
Was this article helpful?
---