---
Marketplace Seller Guide

Application If you have what it takes to become a marketplace seller, you can apply through the following link https://www.cryptohopper.com/pro-traders

Click on apply now and complete the application.

We only accept non-master level applicants in exceptional cases. Therefore you will need to have an active community and a proven track record. We are very selective in who we allow to become a marketplace seller, as quality and integrity are our main priorities.

Terms and Conditions This page outlines the rules you must adhere to as a marketplace seller. Breaking any of the rules outlined on the page will result in a warning and a ban.

General Pointers
Be truthful. Always tell the truth and don't make promises you cannot keep. Do not state "2% daily profit guaranteed" if you cannot stay true to it.
Be contactable. New traders usually like to contact marketplace sellers and ask for more information about the products. Therefore leaving your email, discord group, telegram group is always a good idea.
Be civil in your conversations with the users and help them grow as traders; they will appreciate it.
Strategies A strategy is a combination of technical analysis indicators and candlestick patterns that work together to provide entries into the market and exits (depending upon how you configure it). To find out more information about what a strategy is and how to create it, check our documentation on the Strategy Designer section.
Templates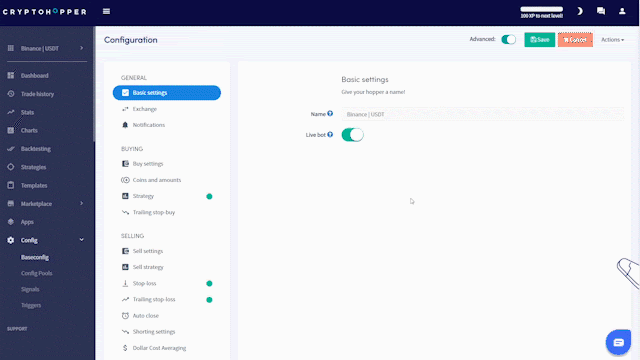 These are essentially the settings of your hopper and can be found in your config section. To learn more about each of these settings, we recommend reading our documentation about the Base config.
After you have set your config, make sure to save the template. You will need to save your template to be able to upload it to the marketplace. Please note that saving your template will also save your baseconfig, triggers, config pools and even signal subscriptions.
Posting a strategy/template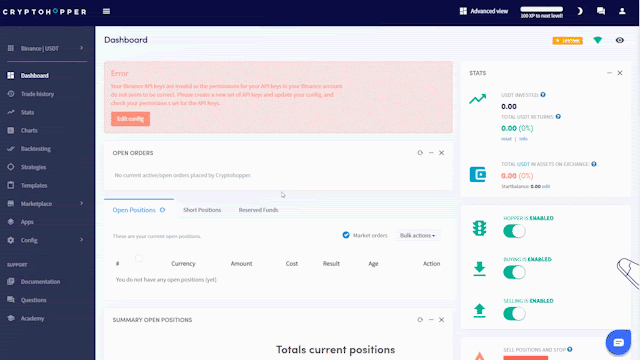 You can follow the steps below to publish a strategy or template on the marketplace:
Go to Marketplace/Marketplace Items
Click on "New Item" in the top right corner of the screen.
Select Strategy or Template (depending on what you wish to post).
Choose the strategy or template you desire and hit continue.
Name: Simply choose a name for your strategy/template. By default, this will be set to whatever you have saved your item.
Description: You can use this space to describe your product, give an expected performance, leave your contact details, recommended settings, and anything else you deem important as long as it adheres to the rules stated above.
Price in USD ($): In this section, you can determine your product's price. If you click on "View all prices and proceeds", you will be taken to a menu to see how much you win at each price level after deducting Cryptohopper's fee.
Logo: This is the front image that will be seen in the marketplace. The logo size has to be 600px X 430px otherwise, it will not work. By default, you will have the logo that you had selected in the strategy designer. To change it, click on the "Change Logo" button or on the picture itself and then choose "Upload Logo".
Promo: This image appears as a banner at the top of the description. The mandatory size for the promo is 1200px X 450px. To change it, click on the "Change Promo" button or on the picture itself and then choose "Upload Logo".
Social media: Below the promo image, you have social media that you can fill in. You can currently fill in your Twitter, Facebook, and Telegram channel. Although you can fill in your social media in this section, it is usually a good idea to put these in the description too.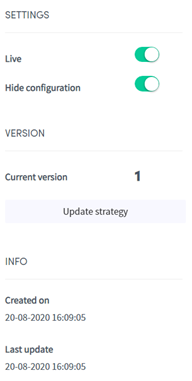 Settings: On the left-hand side of the screen, you have the settings which consist of the following options: "Live", "Hide configuration", and "Update strategy". Let's now go through each of them and see what they mean.

Hide configuration: If you enable this option, the users who download this strategy will not be able to see what is inside, such as what technical indicators and candlestick patterns you used, what timeframes, required signals, etc. Only the name and description will be visible.

Live: Make sure to enable this option and click "save" to publish the strategy on the marketplace and make it visible for users to download.

Update Strategy: Use this option when you want to update your strategy/template. Please make sure to give enough information in the text provided with each update.

Info: In this section, you can see when the strategy was first created, and when it was last updated.

Commissions and Exclusivity Cryptohopper takes 30% of each sale as commission. You can view exactly how much you win with each sale by clicking on "View all prices and proceeds".

You can lower this amount to 15% and gain other perks by becoming an exclusive marketplace seller. To find out more information about becoming an exclusive marketplace seller, please send an email to mihai.stoica@cryptohopper.com.

Copy Bot

Application If you have what it takes to become a Marketplace Seller, you can apply through the following link.

Copy Bots: With a Copy Bot, a user can copy all of your trades and positions. If the option "sync portfolio" is enabled and you have open positions, the users will automatically open the same positions on their accounts as soon as they start copying you. The users will also copy you in proportions to your asset. For example, if you have $10,000 in your account and you use $1,000 (so 10%) of your account to buy BTC, a user who is copying you but only has $1,000 in their account, so they will use only $100 to buy BTC.

To find more information regarding the Copy Bot, you can check our general documentation on the Copy Bot.

Creating a Copy Bot:

To create a Copy Bot you need to have a Hopper trading with real funds (no paper trading).

You can create a Copy Bot in the same fashion as a template or strategy, by going to marketplace/marketplace items and then clicking on "New Item" in the top right corner. Then you can select the Copy Bot option here.

You can then choose your live trading hopper from the list, and hit Continue.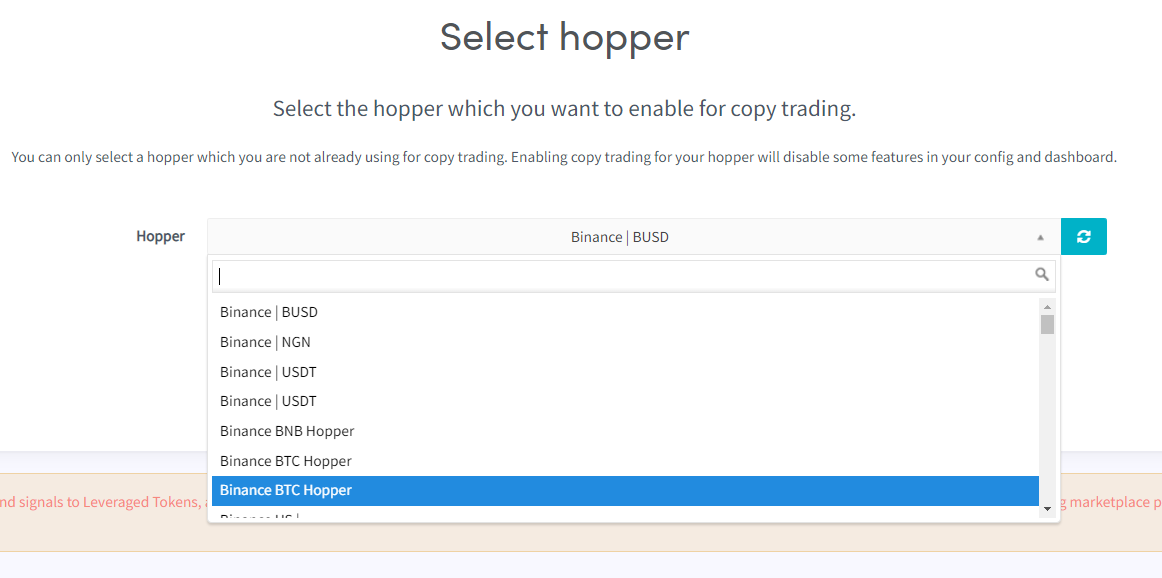 At Cryptohopper we also give you the possibility of managing multiple Copy Bot simultaneously and sending custom signals from your own script through the use of the API. Each marketplace seller can make use of the API to send signals and manage Copy Bots.

Extra Copy Bot Options:

While creating and publishing a Copy Bot is almost the same as creating a strategy or template, the Copy Bot has a few extra options. Let's go through these now!

Free Trial

The free trial option allows the Copy Bot to be used for free for users who are still in their trial period. This could be a good way to attract new clients.

Max Copiers
The Max copiers option can be used to limit the number of people following you. This can be used to limit your assets under management, as some strategies (especially scalping ones) will not work as well with $1,000,000 as with $10,000 as you will start moving the market and thus having a negative impact on the profitability.
Price
The price of the Copy Bot can be changed at any time. However, unlike the strategies, you cannot make a Copy Bot free. The minimum price is $10 while the maximum is $99. You can view how much you earn for each follower at each price level by clicking on view all prices and proceeds.
The pricing differs to normal pricing. Proceeds (what you as a seller will receive) is price minus $9 hopper subscription, and 30% commission over the rest amount.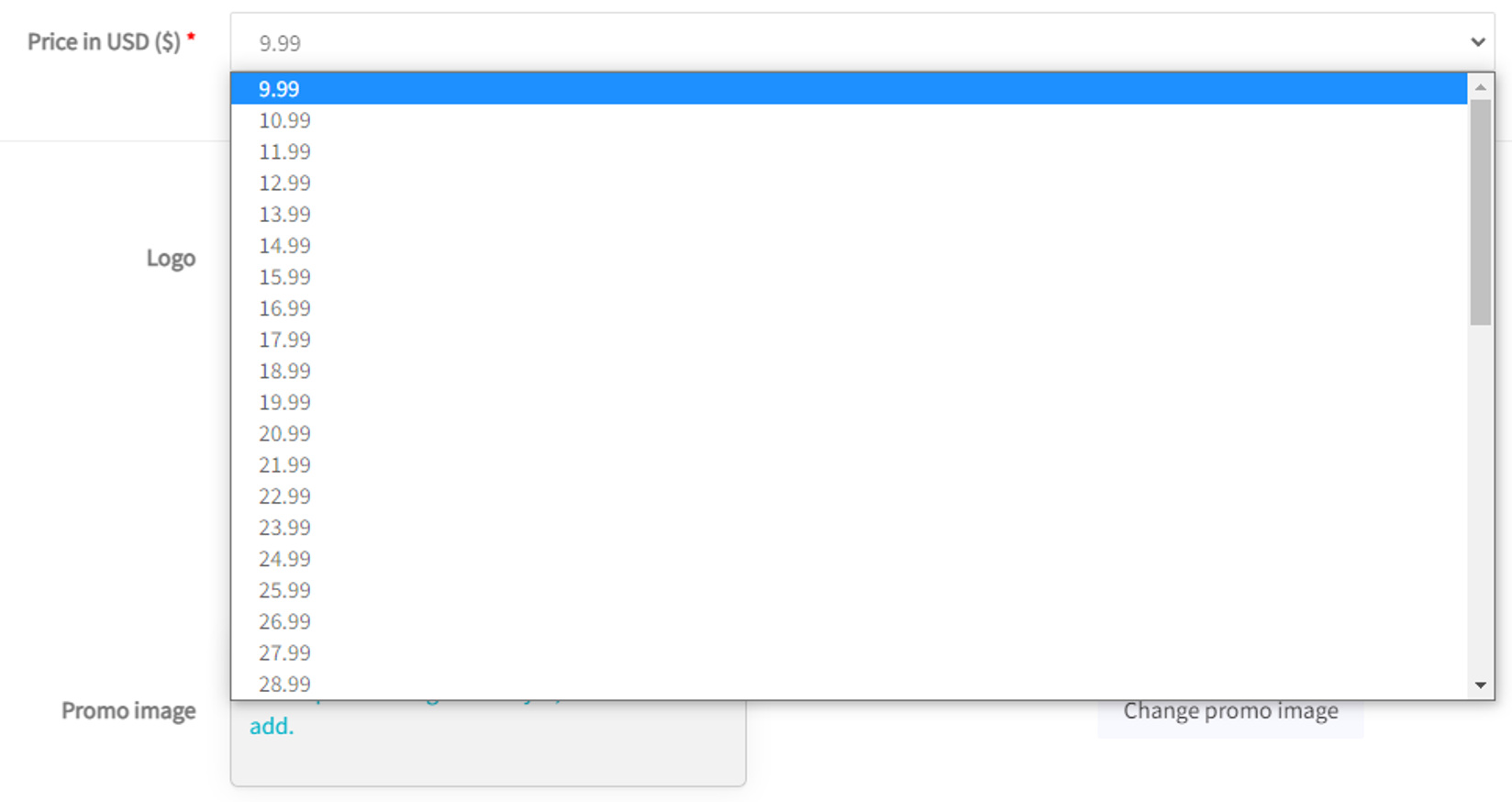 Apart from these, deleting a Copy Bot is also different from a strategy or a template. Let's go through this now.
Deleting a Copy Bot:
To delete a Copy Bot you need to disable the possibility to subscribe first by clicking the "Disable" button.
You will then need to wait until you have 0 subscribers.
Finally, you can delete the Copy Bot by clicking the "Delete" button.
Maximum Amount Quote currency Warning

It is important to note that setting the maximum USDT amount allocated (or whatever your quote currency is) greater than your total assets will result in strange behavior.

Imagine your quote currency is USDT, and you have 1,000 USDT. If you set the "Maximum BTC amount allocated" in the config/baseconfig/coins and amounts to 10,000 USDT, you will encounter some strange behavior. If you then make a buy order of 1,000 USDT (which would actually be 100% of your total assets), it would actually only transcribe to a 10% buy order on your clients' accounts. This is because you only used 10% of your "Maximum BTC amount allocated", which takes precedence over your actual quote currency funds.

Therefore, to avoid this problem, please ensure that your "Maximum BTC amount allocated" doesn't exceed your actual amount of the quote currency.

Minimum trading volumes to trade

Markerplace Sellers can only trade trading pairs that have sufficient trading volume. you can check the trading volumes here.

Minimum trading volumes for all exchanges:
Default minimum trading volume: 40.000 in USD
HitBTC & Bittrex: 20.000 in USD
Poloniex & Coinbase: 25.000 in USD
  Ghost positions

Ghost positions are positions that have been opened in your subscribers' Copy Bots but not in your own trading bot. This can happen after your order didn't get filled while your subscribers' orders did. You can determine for your subscribers when to sell these positions. Selling ghost positions is a manual action to perform. Automated settings don't apply.

Ghost positions will become regular open positions when a new order for the same currency gets filled in your bot. In this case, the subscribers' bots won't open a new position.

Copy Bot Restrictions and API Keys

In order to keep the statistics as realistic as possible and to avoid certain problems occurring for the clients, we have placed some restrictions on what the sellers can do with the copy Bots. Thus once set, sellers are unable to change the exchange they are trading on and their quote currency.

For security purposes we allow you to change your API Keys. However, if you change the API keys and set up a new account, it will show up as a huge drop/spike in assets. Therefore we do not recommend changing accounts.

Show in marketplace

When you want to test out a product or limit access to only people who have the link to it, you can use the "Show in marketplace" feature.

When disabled (as in the screenshot below), this feature essentially hides your Copy Bot from the marketplace so that it can only be found if you have a link to it.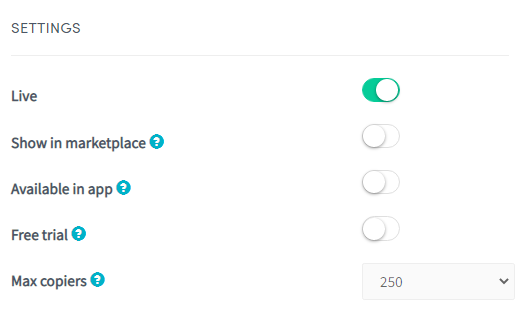 IMPORTANT Market Orders or Limit Orders?

On Cryptohopper, we give you a choice between market orders and limit orders. Generally, we strongly recommend our marketplace sellers to use market orders only unless you have a very specific strategy that only works with limit orders.

Limit orders can cause the following problems:
Orders get filled on your side but not on all of your clients. Therefore they will miss some trades, which is especially dangerous when it comes to cutting losses. Because if your clients don't get filled and the market drops, it can lead to severe losses.
Orders get filled on your clients' side but not on yours. This is also problematic, as your clients may get into a position while you are not. This should open a ghost position, allowing you to sell it on your side after some time, but it is not ideal.
The more funds you manage, the less likely that all of your clients will get filled since you are basically creating large walls of orders at the same price points.
Partial fills can also cause problems. If, for example, you experience a partial fill and then the order is canceled, you will still see it as a position, but your clients may get filled.
Package Deals

Deals, in short, allow Marketplace Sellers to sell multiple templates and strategies through one payment. This is easier for your users and will help you to sell more services. Package Deals can be ideal for various situations:
You want to sell numerous strategies and templates for the AI Strategy Designer,
You want to guide users to use different strategies for different currencies with Config pools,
You want to sell bull and bear templates with their corresponding strategies.
How to create Deals?

Go to Marketplace Items and select Package Deal.
Show in Marketplace

Live: When you've enabled this setting, users can purchase your Package Deal.
Show in Marketplace: You can make a Package Deal on the Marketplace private by disabling the feature "Show in Marketplace". Thus, only people with the link to the package can purchase it. This is an excellent way of sending discounts to specific users only.
Please note that Deals don't include updates to strategies and templates.
You can also check when you created the Package Deal and when you've updated it for the last time.
How to add Templates and Strategies?

First, click on Package Deal and add products by clicking on "Add product" in the upper right corner. After selecting a product, click on the button "Add". You will see the current prices you usually charge for your products and the discount. Determine the total price you want to charge users on the Details tab.

Deals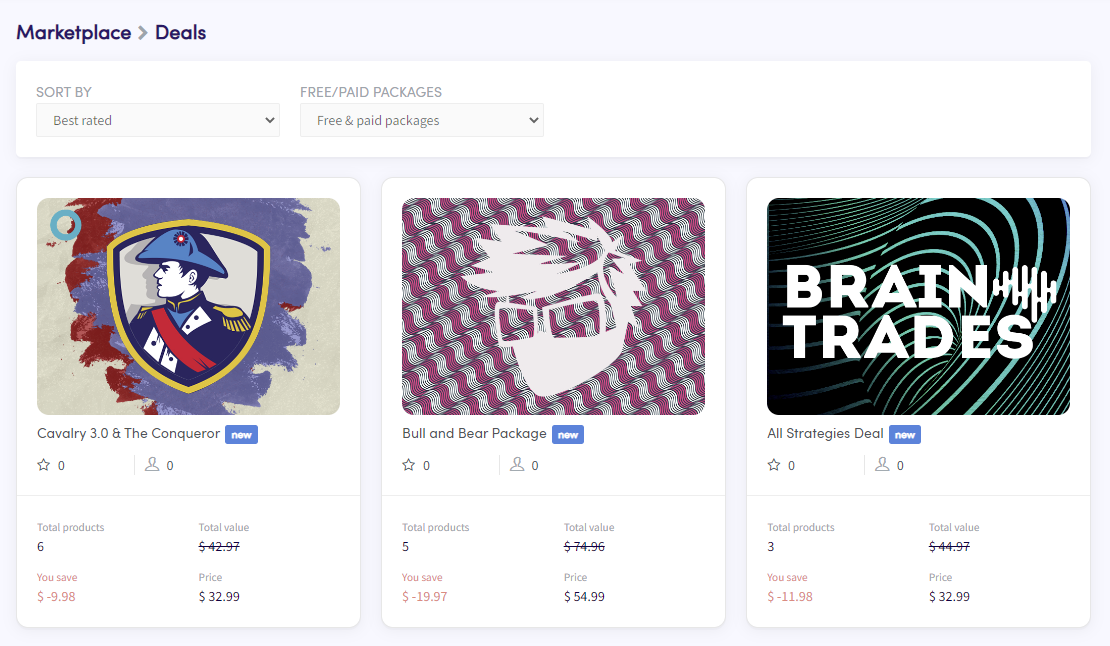 Package Deals allow you to get a quick start with Cryptohopper and include Strategies and Templates. There is no need anymore to download all recommended products separately and you can get a discount on your purchase!
Deals are beneficial for the following situations recommended by Marketplace Sellers:
Easily create an AI Strategy with the strategies and templates you downloaded,
Use different strategies for specific coins with Config pools,
Easily switch between templates for different market conditions with Triggers.
---
Last updated on
---
Was this article helpful?
---