Users that have a Hero subscription have access to an exciting feature. The Market-Maker. But what is Market-Making? Why would you want to us it? There are three main reasons:
If you're a trader and would like to profit from a big spread.
If your project/coin doesn't have enough liquidity, and your spread is too big.
If you're a starting exchange and need liquidity.
Setting up your first Market-Maker

Go to the "Your Hoppers" overview by clicking the menu item in the top left corner of your dashboard. Click the "New" button and select the Market-Maker. Please note: you need a Hero subscription to run a Market-Maker.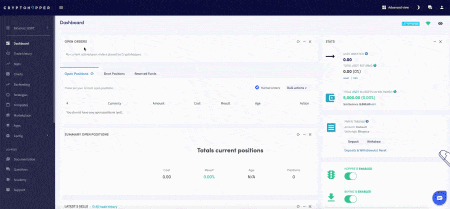 You'll be prompted with your Market-Makers config. This may seem not very easy, but there's a simple logic behind it. Once you've filled in the required fields, your Market-Maker is good to go! Please note that there are market-making templates in the Marketplace as well. These can give you a jumpstart as your journey as a market-maker.
First we have the General Settings. This is the simple stuff. Name your Market-Maker, connect it to your exchange and decide if you want to be notified when your Market-Maker makes a trade.
The most important section is the Market & Pricing section. This is where you configure its trading strategy, how it should recognize market trends and how it should act on certain trends. Here are the most important settings:
Market. Select the market your want to "make" You see the current spread in the window on the left side. Make sure that you select a market with a spread that'sbig enough to make a profit on. Your profit should be at least the double of your trading fee.
Strategy. Select the strategy that you use to recognize the market trend. You can make one yourself, or download one from the Marketplace.
Market Trend. Toggle this from Neutral to Uptrend to Downtrend, to configure what your market-maker should do in different markets. Mainly the order sequence should be different in different market trends, but you can also decide to buy smaller positions in downtrending markets (or no positions at all).
Order Sequence. Should your bot place a buy & sell order at the same time? That's normal for market makers in a neutral market. Or do you want to buy first and sell later? That's good for an uptrending market. The opposite is true for a downtrending market.
Order positioning. At which position in the orderbook should your orders be placed? As a market-maker, you want to make orders quickly, so it's recommended to be the number one in the orderbook, which means you should have your orders filled first.
Mininum Spread. If you're trading for a profit, set this to the double of your trading fee. Otherwise you will make a loss.
Last but not least, Order layers. Do you want orders at mutliple positions in the orderbook? This is to create liquidity and a "healthy" orderbook. Set the buy amounts per layer, or stick with just one layer.
You're already good to go, but you can configure even more! Skip this part if you're searching for more information about the Market-Makers Dashboard.
Autocancel
Cancel your orders automatically. You don't want to let your orders stay open forever since it reserves a portion of your funds! There are a lot of possibilities to decide why/when your orders should be canceled automatically. We've listed the options:
After a period of time. Don't want your orders to stay open longer than a given time? That's easy; simply configure the amount of seconds/hours/days it can stay open. The minimum time is 30 seconds, and the maximum time is 99 days.
Cancel on trend change. You may want to cancel your orders if the trend changes. For example, if you're in a neutral trend and the markets are heading downwards. Configure here when your orders should be canceled to build in that extra layer of safety.
Cancel on percent change. It's almost the same as number two, the trend change, but only based on a percentage. That could be helpful when you don't have a good market trend strategy or analyze the markets yourself and know where a support or resistance is.
Cancel on Depth. The markets change, and other traders may put their orders on top of yours. Cancel orders automatically when X amount of orders are "on top of yours", which are filled earlier than yours.
Stop-Loss
The Stop-Loss is a crucial way of protecting your investments. You can use it with your market-maker as well, but it's a little bit different.
The Stop-Loss in your market maker determines in what price range your bot is allowed to trade. So fill in a specific price for the upper and lower limit, and your bot will only trade within these ranges.
Market-Maker orders are a buy and sell orders that are tied together. That makes it easier to see if they've made/ will make a profit. Toggling the "Cancel market makers" switch will cancel both orders when your stop-loss is hit.
Enable "Allow revert/retry" if you want your orders to be put back in the order book when the price is back in your price range, and your bot is allowed to trade again.
Revert & Backlog
The Revert & Backlog is a way to "keep" failed and canceled orders in a backlog, waiting to be traded again.
Let's say you wanted to buy and sell your currency that you're market-making at the same time, but you only managed to buy and not to sell. The price goes down, and you're stuck with your order, and the order is canceled. You may want to keep in mind that you still need to sell that "bag" (loss-making trade) successfully. The Revert & Backlog helps you keep track of those trades and places them again when the time is right.
You can select what kind of orders it should place (limit or market), if it should place a take profit with those "left-over" orders, if you only want to sell those orders if you can make a profit on it and what it should do per trend.
The Market-Making Dashboard
You've put all your efforts into making an award-winning configuration for your market-maker, and now you're ready to start trading.
Your Market-Making dashboard has a few essential parts:
The Chart. Draw directly in your chart and check your indicators.
The Orderbook. It's a unique order book, since it's a drag and drop order book. You can see you live orders in it and drag it to a new position. Enable the "Manual Market Makers" if you want your manual buy/sell orders linked together. This is great if you're going to keep track if you're making a profit or not.
Open Orders. You're trading illiquid markets, so your orders are probably staying open for a more extended period.
Market-Makers/Backlog. Keep track of your Market-Makers orders (buy/sell orders tied together) to see if they will make you a profit and manage unsuccessful orders in the backlog to keep track when an order isn't successful.
Market Trend. If you've configured a strategy, the market trend will be automatically updated. You can set it manually yourself as well.
Start balance. Make sure that you have enough funds in both currencies of your pair! So if you're trading VRAB/BTC, then you need both BTC and VRAB! Reset the start balance when you start, for an optimal profit calculation.
Manual Order. Place a manual order if you haven't got enough of one of the two currencies you're market-making.
Output. For every Hopper type essential! This is the place where you're Hopper is "speaking" to you. It will tell you if it encounters any errors or problems.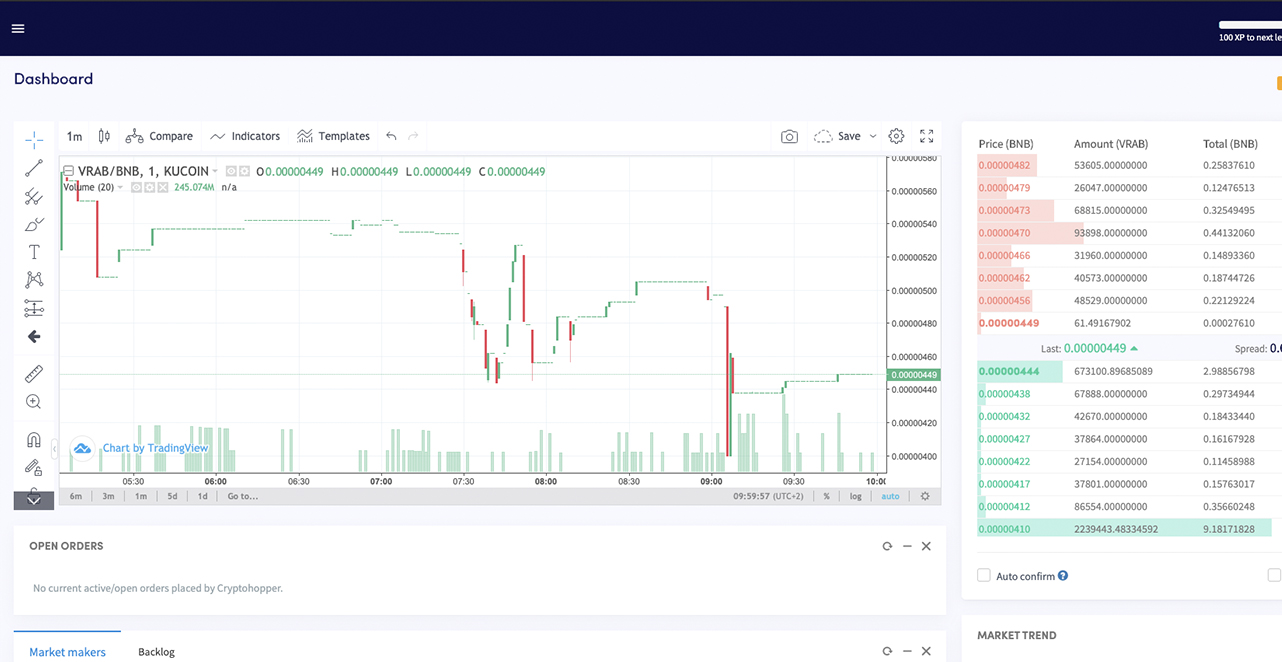 And this is it! Many steps and options, right? Don't let them scare you, most of them are very optional and for particular needs. In fact, to start market making, you would just need to select your exchange and the market you would like to trade.
With the regular trading and arbitrage bot, the market maker bot completes a full range of automated trading tools that will let you profit from the volatile crypto market.
A whole range of possibilities that you can automate with a Hero subscription. Start trading crypto automatically to trade any cryptocurrency, any time.