The definition of Arbitrage: "Arbitrage is the simultaneous purchase and sale of an asset to profit from a price difference".
It is a trade that profits by exploiting the price differences of exchanges or market inefficiencies. Arbitrage exists as a result of market inefficiencies and would not exist if all markets were perfectly efficient.
Setup Guide Exchange/Market Arbitrage

The Arbitrage bot of CH allows you to trade discrepancies in the market, capitalizing on changes in market price between the same pairs on different exchanges.

First of all, the arbitrage bot on Cryptohopper does not send funds among different exchanges (as you might expect from Arbitrage). Therefore, we don't need permission for "withdrawal rights" through the API.

Go to the "Your Hoppers" overview by clicking the menu item in the top left corner of your dashboard. Click the "New" button and select the Arbitrage. Please note: you need an Adventurer subscription to exchange Arbitrage and a Hero to run Market Arbitrage.

The dashboard of both types of Arbitrage is the same. Hero users can disable Exchange arbitrage if they only would like to use Market Arbitrage.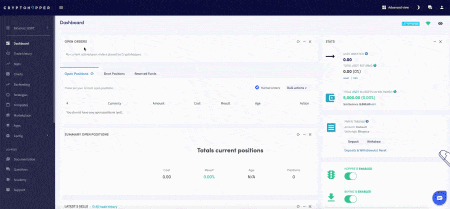 You've created the Arbitrage Hopper, so let's do a step-by-step approach.
Step 1: Basic Settings.
Fill in a name and how long orders should stay open on your exchanges.
Step 2: Exchanges.
Connect your Exchange account(s) or start with paper trading. You will need multiple exchange accounts to perform exchange arbitrage and only one account to perform market arbitrage.
Step 3: Notifications.
Enable if you want to be notified when a trade is made, canceled, or encountered an error.
Step 4:Coins and Amounts.
Set the percentage sell amount. This is a percentage of your total funds and will become your standard order size. Make sure that your orders are larger than the minimum order size on xchanges. A rule of thumb is that the minimum order size is around $15,-. If you want to set different amounts per coin, configure it under the Percentage Sell Amount.
Step 5: Exchange/Market Arbitrage Settings.
We skip selected markets, since these will only load when you save, but you can't save before you've filled in this part.
Fill in the minimum percentage profit you want to make on an arbitrage trade. Make sure that it's more than your paying on transaction fees! Fill in a "Max open time arbitrage" to determine how long an arbitrage trade can be tried until it should be canceled automatically, and configure how many trades your bot can try simultaneously. Set the order type to "Market" if you want to have your orders filled more quickly. This makes your orders sometimes way more expensive! So watch out! The safest option is keeping it to limit.
Configure/copy these settings at both the Market/Exchange Arbitrage. It's necessary to save your config. Click the Save button.
Step 6:Selected Markets.
You will need to configure which coins your Hopper is going to Arbitrage as described in the last step. The coins will only be loaded when you save first. Now select the markets you want to trade. Remember that you need funds in the base currency of these markets and the coins you're choosing, otherwise, your Hopper can't perform the Arbitrage. Click the save button again.
Step 7: Revert & Backlog (optional).
Did an Arbitrage fail in the middle of performing it? For example, your buy order succeeded, but your sell order failed? Move it to your backlog, so you can try it again whenever the time is right. It also gives a good oversight if you're performing well and what your loss-making trades are.
Once you're done, click save and go to your Arbitrage dashboard!
Arbitrage Dashboard

Remember that you need funds in the base currency and the coins that you have selected. If you're using exchange arbitrage you need it even on all connected exchanges! If you're paper trading, deposit all those simulated funds on your paper exchange(s).

A list of sections to look out for on your Arbitrage Dashboard:
Open orders. The open orders dashboard list all the active orders that are currently being used by the Hopper. If the Hopper is in the middle of an arbitrage trade, it will show it here too.

Open exchanges markets and backlog. This will list all current open exchange arbitrages, the open market arbitrages and backlog items in your Hopper.

Hoppers enabled / disabled. You can enable or disable exchange/market arbitrage here, depending on what kind of arbitrage you'd like to use.
4.** Latest arbitrages**. The latest arbitrages dashboard shows you what trades were made, and if they were successful or not.
Exchange arbitrage results. Your Hopper will scan the markets for Arbitrage opportunities. It will show what it has found here, so you can judge if your settings are too tight and if your Hopper is properly configured.

Market arbitrage results. Your Hopper will scan the markets for Arbitrage opportunities. It will show what it has found here, so you can judge if your settings are too tight and if your Hopper is properly configured.

Manual order. Handy if you don't have enough funds of a certain currency. Please your manual order here so that your funds are sufficient in all selected markets. Totals in assets on exchange. Last, but certainly not least. See what's on your exchange and if you've made a profit. Reset the balances when you start. It's the best way to track profits.