Invite friends - Affiliate program
Trading is always more fun when you can discuss trading strategies with friends or when you earn some extra money by spreading the word about your favorite automated crypto trading platform - Cryptohopper! Discover all possibilities to grow your discussion groups and passive income!
Recurring affiliate payments: Cryptohopper offers recurring affiliate payments as long as your directed users are subscribed to one Cryptohopper's subscriptions, there is no end date! This applies to both monthly and yearly subscriptions. The more effort you put into promoting Cryptohopper, the higher your passive income will be. There are three different affiliate tiers:
< 500$ in monthly commissions, you will receive 10% on Hopper subscriptions 500 - 1000 in monthly commissions, you will receive 12.5% on all Hopper subscriptions
1000 in monthly commissions, you will receive 15% on all Hopper subscriptions
Keep in mind that up and downgrading between these tiers will happen automatically.
Example: When someone uses your affiliate link and buys a Hero Hopper subscription while you're in the third tier, you will receive 14.99$ every month as long as this user is subscribed. An explanation of how to use the affiliate link will be given below.
How to become an affiliate of Cryptohopper? First of all, you need a Cryptohopper account (link: https://www.cryptohopper.com/create-account ). Create an account by filling in your email, username, full name, password. Additionally, you have to agree with Cryptohopper's terms of service and it is recommended to subscribe to Cryptohopper's newsletter. By subscribing to the newsletter, you will always be up to date about the developments that are going and which you could create new content.
Once you have created an account, you can scroll down in the menu on the left to discover the affiliate menu. Click on "Affiliate program" and then on "Accounts".
Affiliate accounts
On this tab, we will explain the basics of the affiliate program.
Referrals: The referrals show how many times people have clicked on all your affiliate links. It's good to keep an eye on this when you are trying new channels and check the impact of your new channel. Keep in mind that it always takes time before new channels take off due to the indexation of the channels you use to improve your exposure on these platforms.
Conversions: The conversions show the number of times you actually managed to get someone to buy a Hopper subscription. By default, the last 60 days of conversions are shown.
Commission: The commission shows how much in value you have earned by selling subscriptions. By default, the last 60 days of commissions are shown.
New account: By clicking on New account, you can fill in a list of personal details to receive a new affiliate link. This new affiliate link could be used for a different social media channel, new website, or for a specific promotion to check its effectiveness. When someone clicks on your link, a cookie will be stored in their browser. This is how Cryptohopper recognizes who bought a subscription based on your affiliate link. The standard affiliate link looks like:
https://www.cryptohopper.com/?atid=00000
However, you can also use your affiliate ID, ?atid=00000, from the example above with all webpages of Cryptohopper, except for the Documentation. Example:
https://www.cryptohopper.com/blog/477-cryptohopper-launches-its-cryptohopper-program?atid=00000
Affiliates: This button offers quick navigation through the different affiliate tabs, including Affiliates, Referrals, Conversions, Payments, and Banners and links. These affiliate tabs will be explained further below.
Last 60 days: Curious about your most recent or all-time conversions and commissions? This button offers you to see the number of referrals, conversions, and commissions for specific time frames, including today, last 7 days, last 15 days, last 30 days, last 60 days, as well as all-time. You can easily check your growth by looking at different time frames.
Further below, there is a graph that shows your different accounts, the affiliate links, the status of the links, and the percentages of your commissions. You can click on edit to change your personal details.
Referrals: Referrals show how many people have clicked your affiliate links. By default, the last 60 days are shown. However, you can also filter your generated traffic by selecting a specific time frame and by choosing a specific affiliate account.
A list is shown with the name of the Account (your affiliate link), Datetime (when someone clicked your link), and it shows on which HTML5 banner, banner, or link someone clicked.
Conversions: Who doesn't want to know what kind of subscriptions has been sold and how much you receive? The conversions page is the right place to find out.
On top, you will find the same statistics as were shown on the Affiliate account page. It shows the number of conversions and your commissions of the last 60 days. You can again filter on different affiliate links and time frames to check how much you have made in specific time frames on one or more affiliate accounts. All values are shown as well. Keep in mind that there Cryptohopper promotions and that the value of a subscription is slightly lower than the prices shown on the pricing page.
Payments: Your affiliate payments will be added to your Cryptohopper Balance after 4 to 6 weeks after the user has made a payment. The final amounts can slightly differ due to refunds. Once the payment has been added to your Balance, it will show the status "Paid". On this page, you can again filter based on time frames to check your income.
Cryptohopper wants to help you as much as possible with promoting the platform. Therefore, there is a wide range of banners available.
Text links: You can use text links on your website or on other platforms by simply copying the HTML code and paste it.
General banners: General banners are simply banners that don't move. We offer banners in all kinds of sizes so that they fit everywhere on your website. You can also simply copy the HTML code and paste it where needed.
Logos: You could use the logo's similarly to general banners or use them for designing your website. Javascript snippets: Not all Content Management Systems (CMS) support HTML banners. Therefore, we have also added some Javascript snippets that also include some Javascript code.
Market Making: We have created a page specifically for the Market Making bot. The Market Making bot needs a Hero Hopper subscription, therefore, it could increase your commissions by promoting this bot type.
HTML5 Banners: The most effective banners are the HTML5 banners. These banners are animated and show in a couple of seconds multiple features of Cryptohopper. The HTML code can also simply be copied and pasted where needed.
Affiliate payments: We have already explained where you can find all the information regarding your affiliate accounts. But obviously, it's also good to know where to be able to withdraw the commissions you have made. Your funds can be found by clicking on "Subscriptions" in the menu on the left.
When funds have been added to your Cryptohopper balance, you will see the button "withdraw". This button is only visible to affiliates and Marketplace sellers. Fill in the amount you would like to withdraw, choose your payment method, add the necessary payment details and confirm the withdrawal. The pending payments will be executed on Monday's and the minimum amount to withdraw is 75$.
Cryptohopper Widgets
To support affiliates with promoting Cryptohopper, we have developed a page that includes many different promotional tools, including; Marketcap, Tickers, Labels, Cards, Box, Multicurrency, Lists, News, and a Converter. All tools and how to apply them will be explained, using the widgets is an easy tool to increase your conversions. You can use all tools by clicking on "Get code" and can be previewed by clicking on "Preview".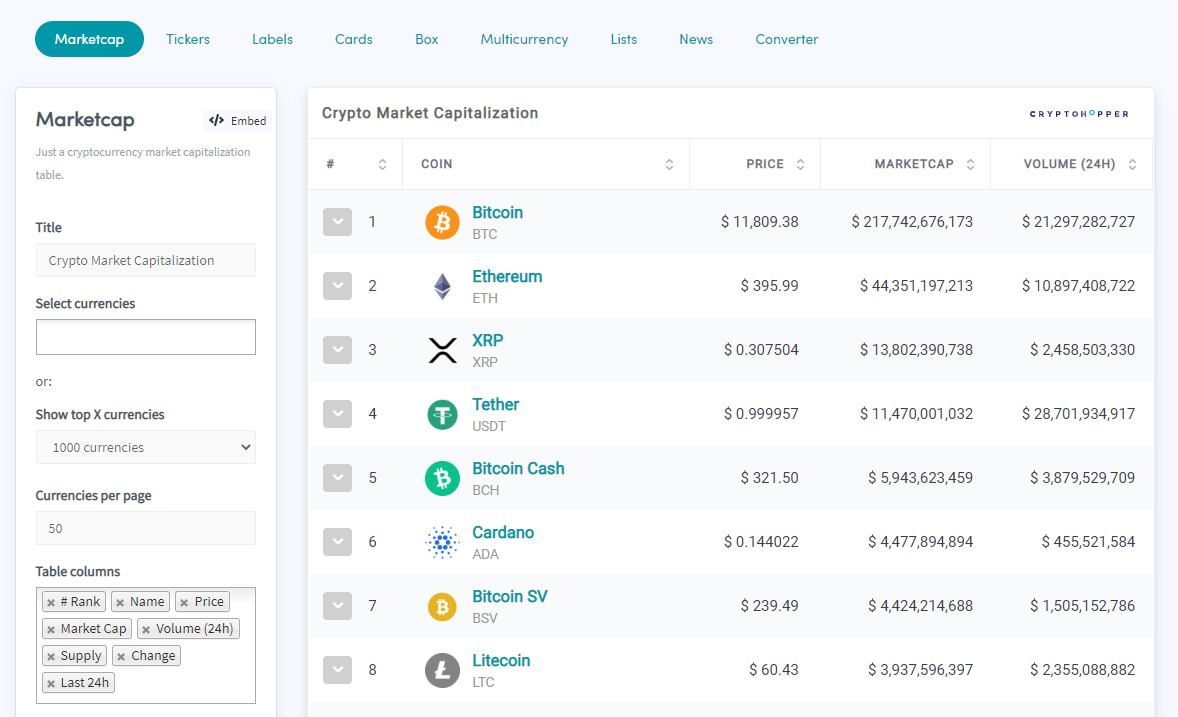 Marketcap : The Marketcap tab allows you to include a Marketcap table on your website. You can give your Marketcap table a name, select which currencies you want to include or use the option "Show top X currencies". The options are Top 5, 10, 25, 50, 100, 200, 500, and 1000. You can determine how many coins you would like to show per page.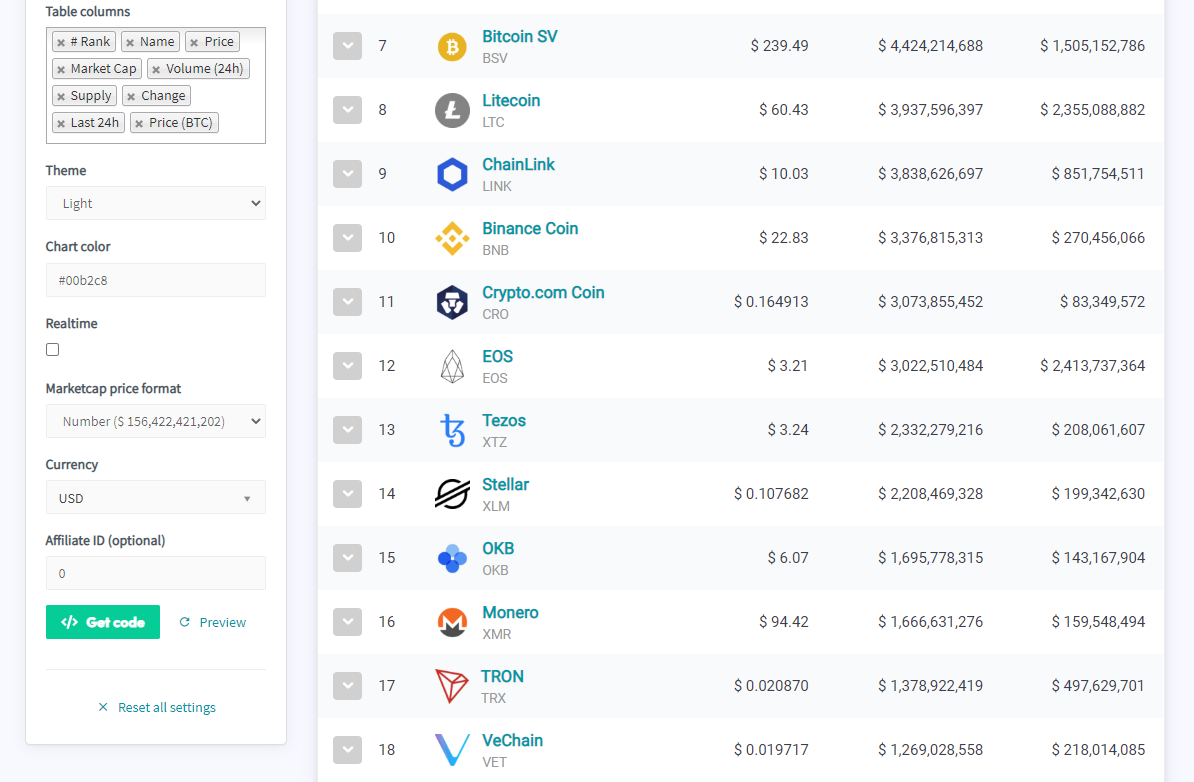 Not all information might be needed about the selected coins. Therefore, we have added the option to select and unselect different columns, including Rank, Name, Price, Market Cap, Volume (24h), Supply, Change, Last 24h, and Price (BTC). Determine which theme you would like to use, there is a Light and Dark mode. Next to the theme, you can select a color to your liking for charts. The data of the currencies shown could either be static or change in real-time, and the price format can be adjusted to numbers, symbols, or even text. Do you target a specific geographic region? You can even determine in which currency the value of the coins is displayed. The last setting of the widget that can be configured is the Affiliate ID. You only have to fill in the numbers of your Affiliate ID. To finish creating your very own Marketcap widget, click on "Get code".
Tickers : Tickers are similar to what you see on specific television channels. It's basically a small row that shows the current values of cryptocurrencies from right to left.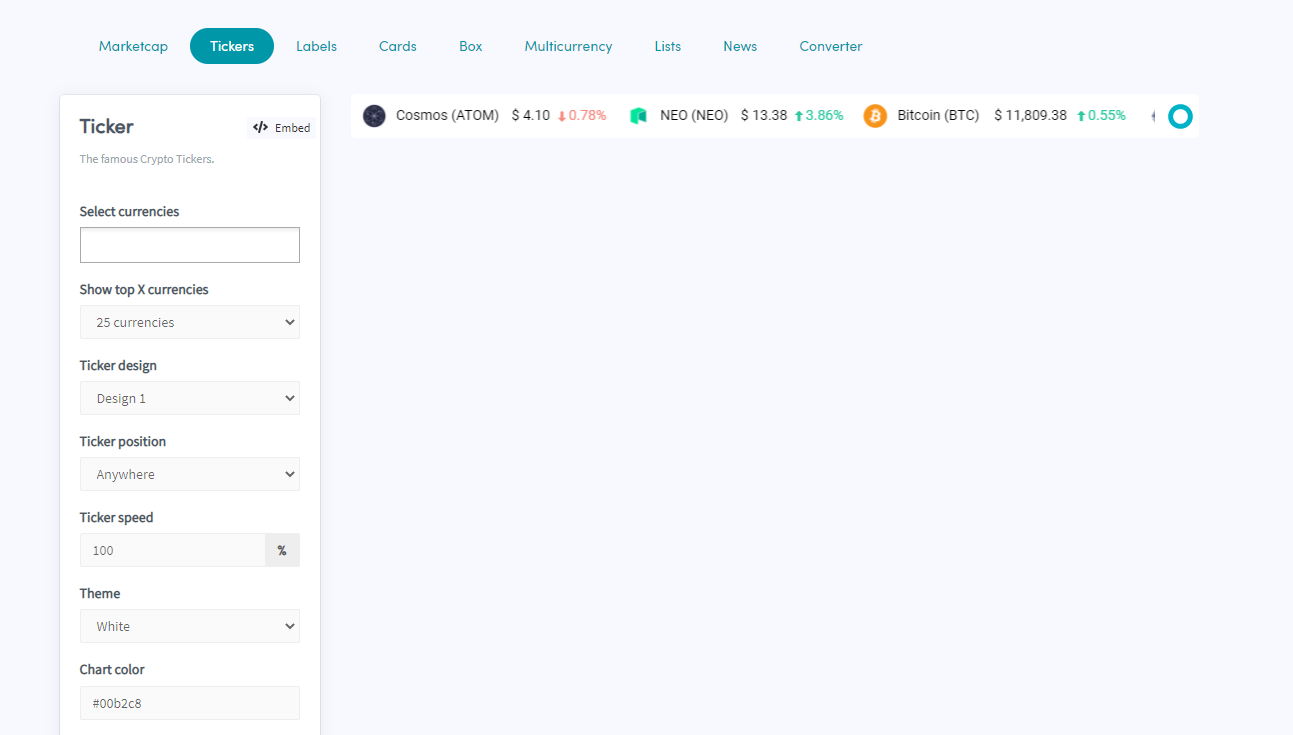 Choose which currencies you would like to show or select a group of currencies by clicking on the drop down menu under "Show Top X currencies". Determine a ticker design, there is a small and large option. Most often, tickers get used either on top or at the bottom of a website, but you can also select the option "Anywhere". Additionally, you can adjust the speed in which the tickers scroll, choose a theme, and determine the chart, background, and text color. Other configurations are realtime information, logos, round corners, 24h change, Market Price format, currency, and Affiliate ID.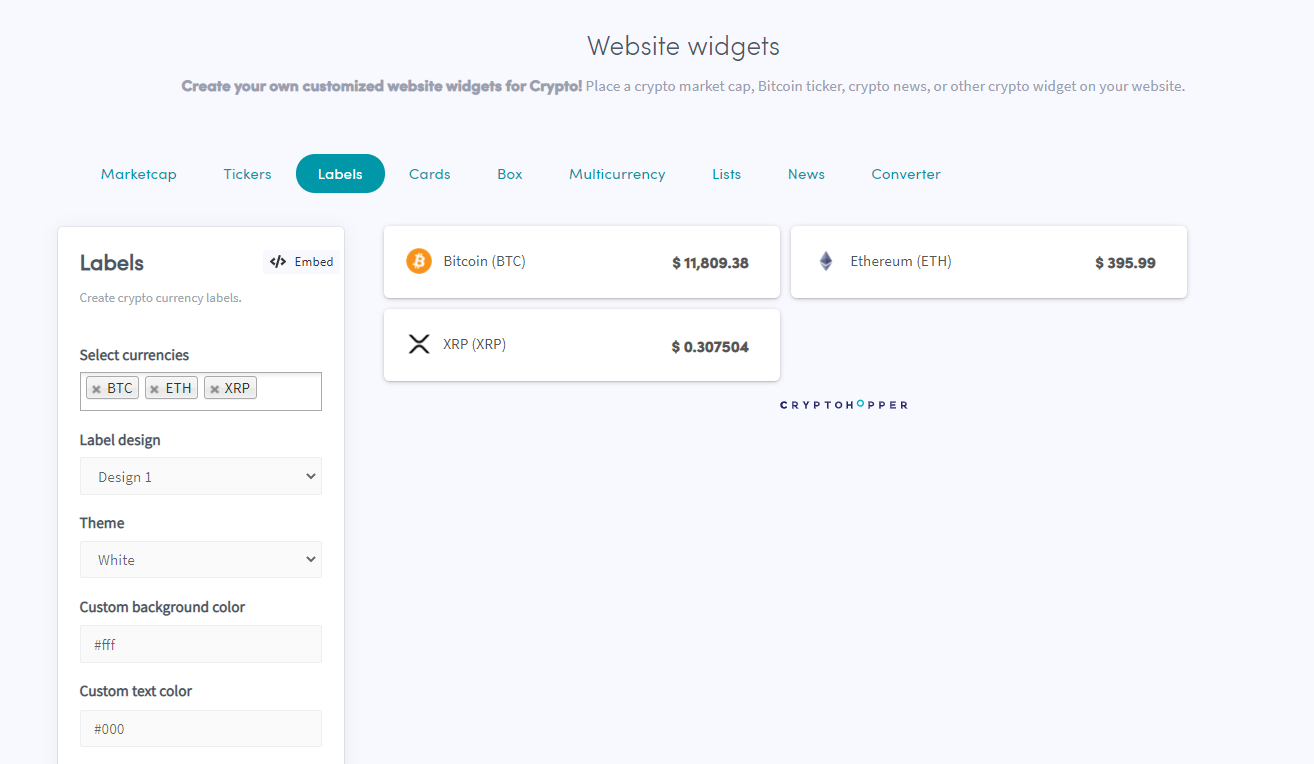 Labels: Labels are relatively small boxes that show the current price of cryptocurrencies. Determine which currencies you would like to show. You can choose between 3 label designs, multiple themes, use a custom background color, show prices in realtime and in full width on your website. Additionally, you can use squared or rounded corners, choose a price format and choose in which currency or currencies the value should be shown.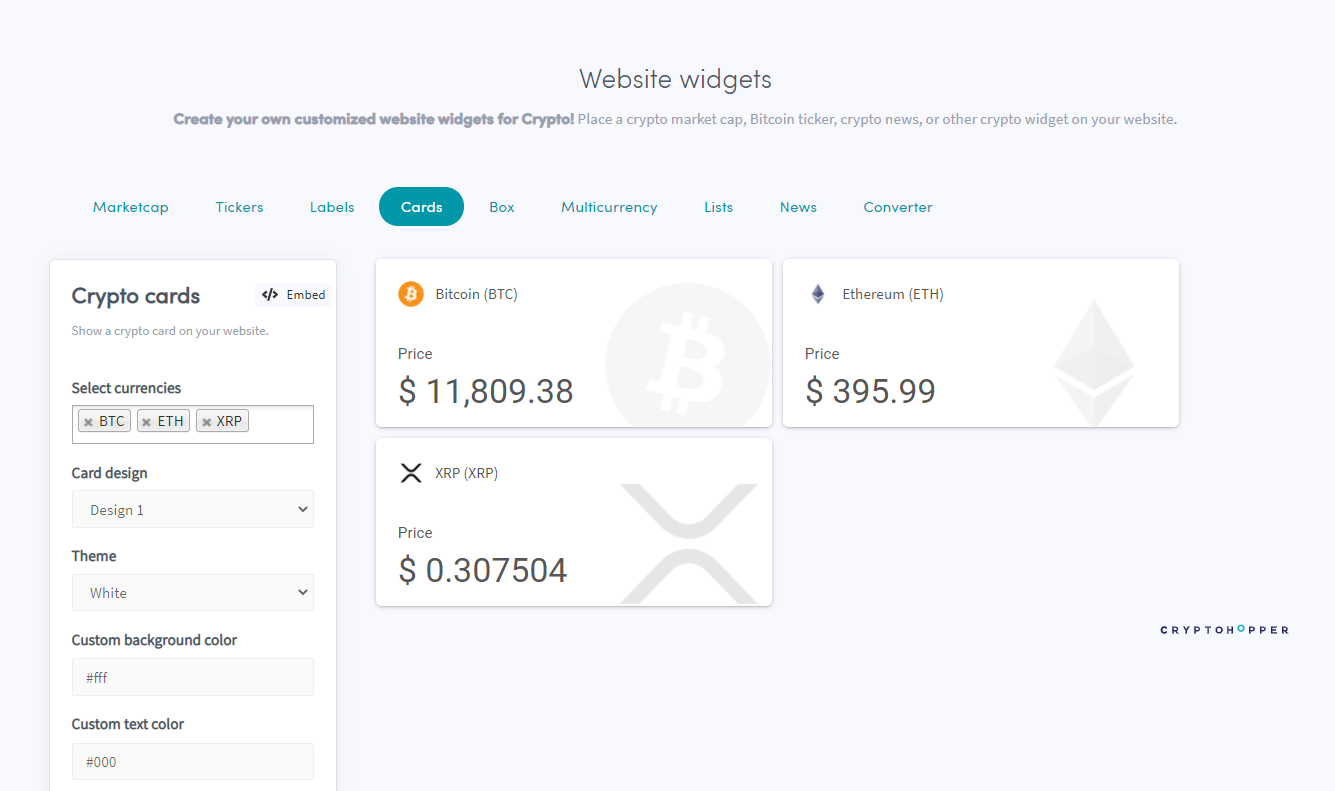 Cards: Cards are similar to labels but then have a bigger size. The configuration is comparable to labels.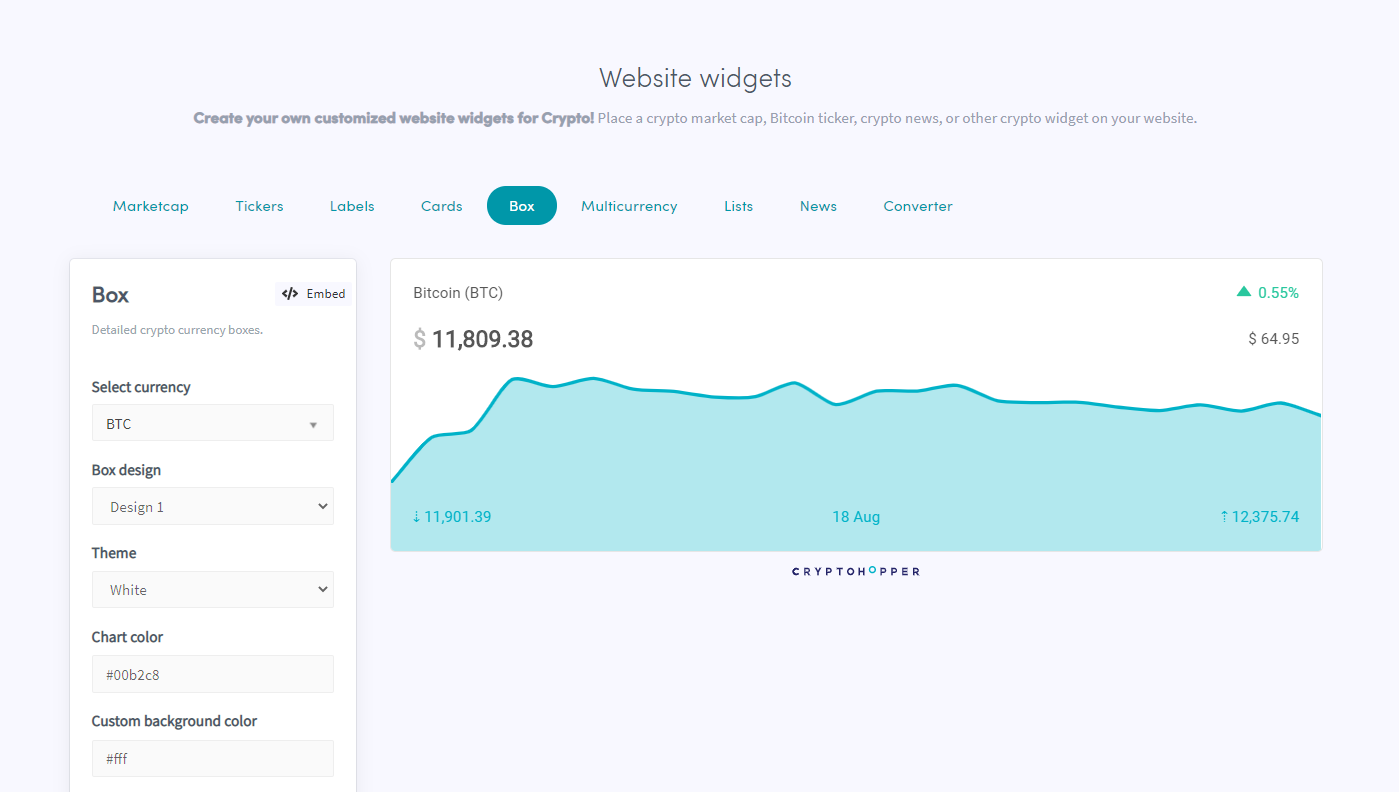 Box: Boxes are similar to labels and cards, but boxes also show the price throughout the day. The configuration is comparable to labels and cards.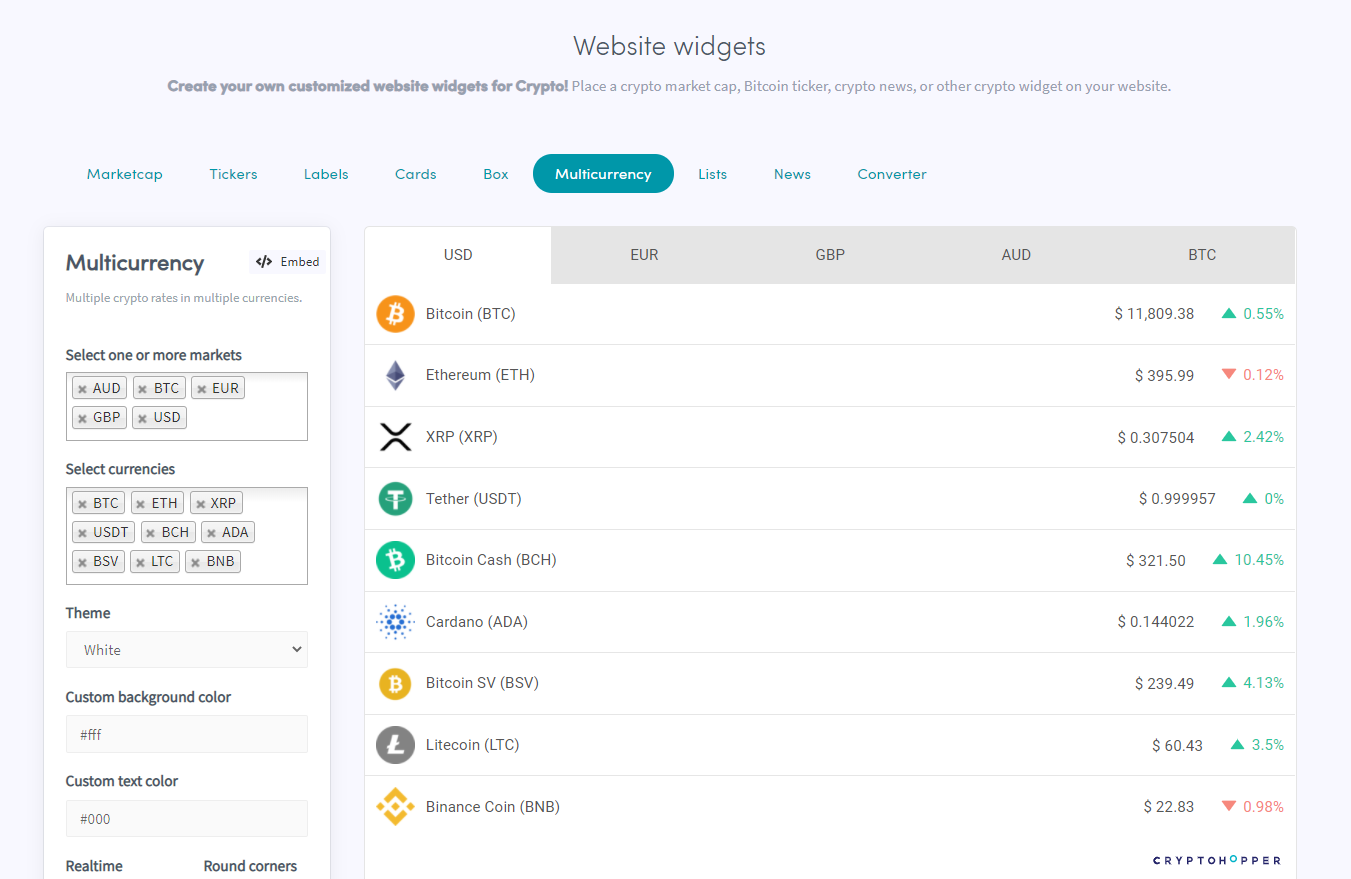 Multicurrency: Multi Currencies are similar to the first option, "Marketcap". The main difference is that your reader can choose in what currency (GBP, USD) they would like to see the current value of your selected cryptocurrencies.
Lists: Lists are comparable to the boxes mentioned above, the key difference being that lists show multiple currencies. The configuration is also similar to boxes. It's recommendable to play with several settings to determine how you want to show the lists' currencies.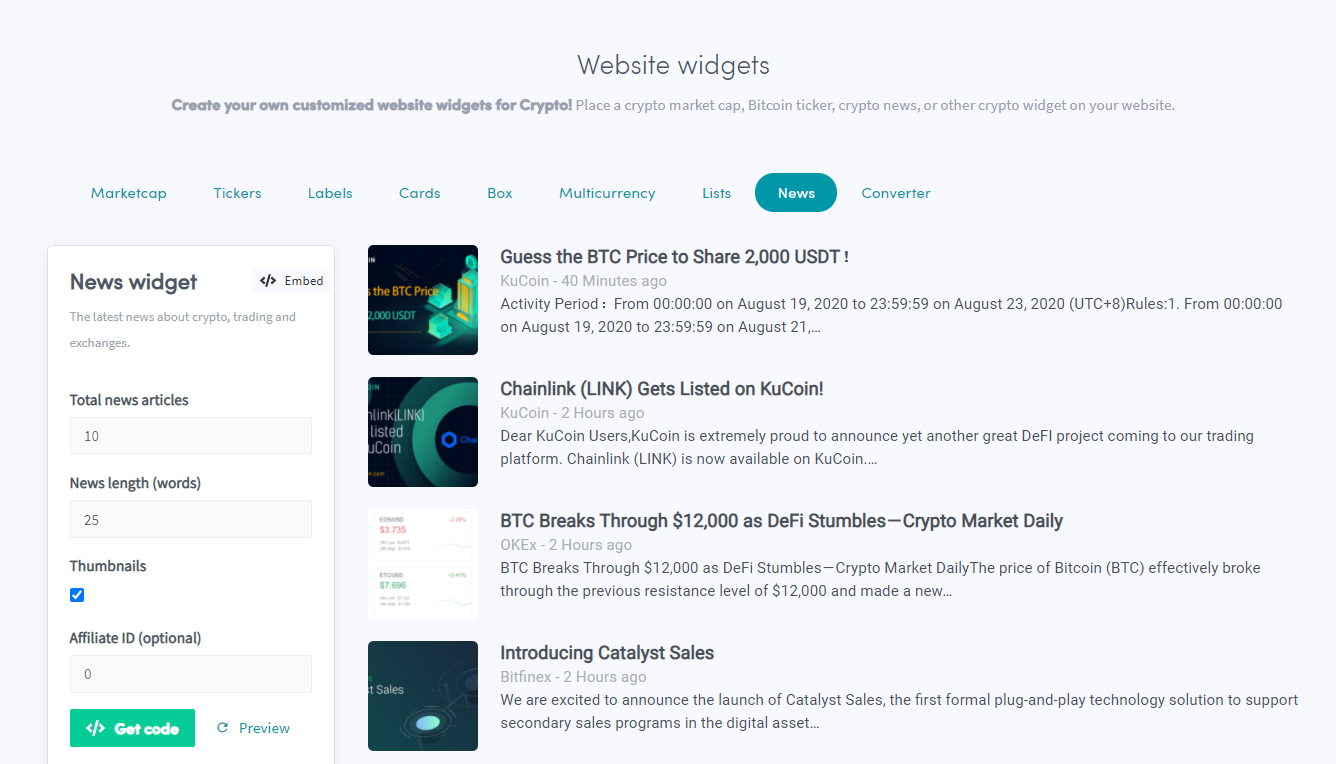 News: You can now use Cryptohopper's news section on your website! Determine the number of news articles you would like to show and how many words you would like to show.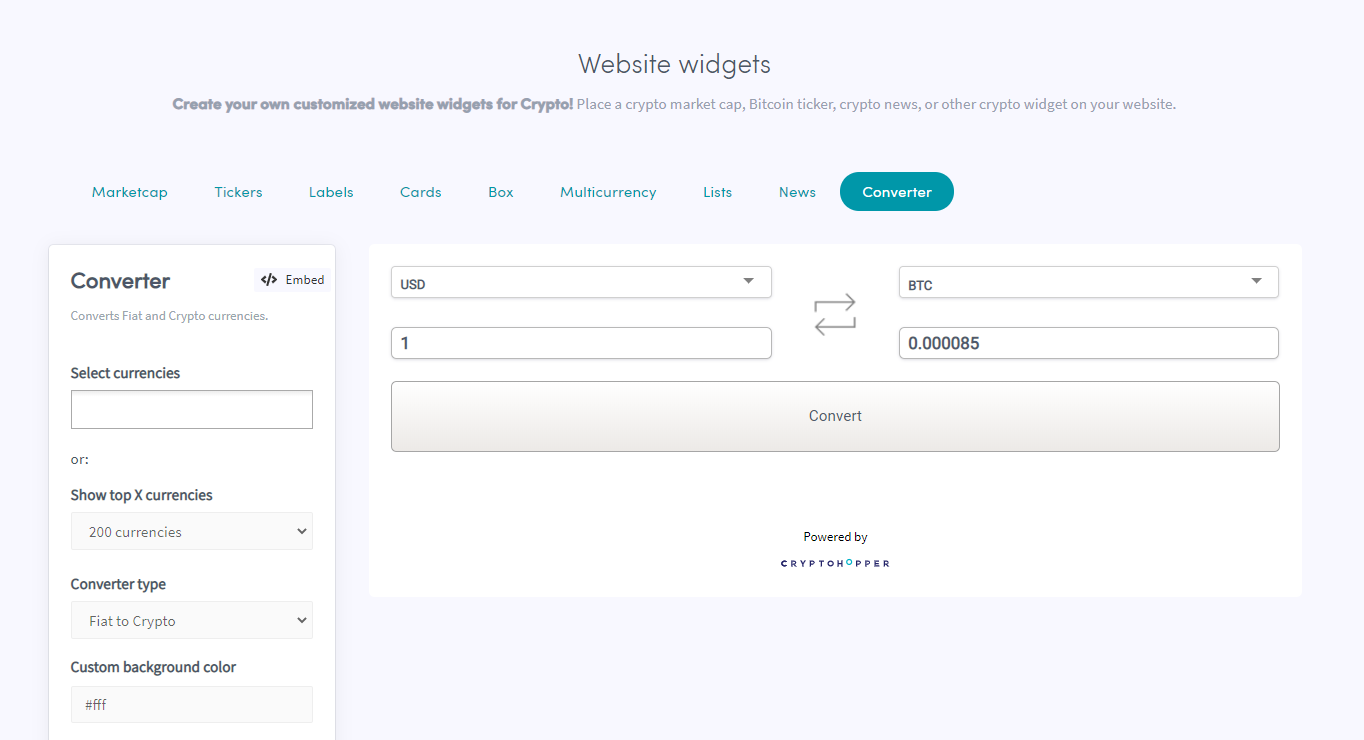 Converter: Cryptohopper also brings a widget in which your reader can convert one currency in another. Either choose the coins you want to show or select one of the options under "Show top X currencies". Choose the calculator you would like to show; fiat to crypto, fiat to fiat, or crypto to crypto.
Tips and tricks:
Become a Marketplace Seller and create a Cryptohopper related website
Use the CryptoTweeter
Use the banners we already created for you
Share new posts/videos regularly on multiple platforms and interact with your readers/viewers, use multiple social media channels,
Use updated images/information to increase your trustworthiness
Think about SEO
Interested in a promotion with Cryptohopper? Share your ideas with us!