---
Triggers allow you to build safety nets or to enable automatic actions for your Hopper.. For example, you can create a trigger that shuts down your Hopper when Bitcoin rises very fast. That could be useful for people who trade against Bitcoin.
The Triggers Config exists out of three sections. The Trigger: what should happen for your trigger to be, well, triggered? The Action: what should happen when a trigger fires? The Cooldown: how long should the Trigger be disabled after it fires before it can trigger again?
We will first explain the different Trigger settings, then show some examples that will improve your trading results.
Name: Give your trigger a name.
Enabled: Enable or disable the trigger.
Select exchange: Which exchange's data do you want to use?
Select market: You can create triggers for a specific coin, group of coins, or hopper template. The market can be your quote currency or a specific trading pair.
Candle size: Determine which candle size you want to use for your indicator(s).
Select indicator(s): Cryptohopper supports 13 triggers:
Price: Trigger based on a specific price of your selected market

Percent change: Trigger is based on the percentage change within the candle size selected
It's possible to use multiple indicators that need to be triggered at the same time before executing an action.
Actions
Load template: Allows you to switch between different templates for different market situations. You can "overwrite/reset triggers" and use the triggers of the newly loaded template or continue using the triggers of the current template by selecting "Do not overwrite/reset triggers"
Set buying status: Enable or disable buying.
Set selling status: Enable or disable selling.
Hold positions: Select the coins you want to hold. These won't be sold when your trigger gets triggered.
Unhold positions: Select the coins that the Hopper should stop holding and make available again when your selling requirements are met.
Set take profit: Change the Take profit of selected coins when your trigger gets triggered.
Buy: Buy selected coins when your trigger gets triggered.
Sell: Sell selected coins when your trigger gets triggered.
Open short: Sell selected coins (when in open positions), reserve the funds of the quote currency, and buy back the coins when your shorting requirements are met.
Close short: Buy back your open shorts when your trigger gets triggered.
Sell everything/Panic mode: When your trigger gets triggered, the Hopper will sell all your open positions and disable buying. You can select the option to use Market orders for faster order execution.
Send email: Receive an email when your trigger gets triggered.
Let's create a trigger! To create your first trigger, go to Config and click on the Triggers tab. On the left side, you will see how many triggers you can still create and how many you have left. Every subscription has a maximum amount of triggers that you may have.
Click "New" to create a new trigger. First things first, give your trigger a name.
We're going to set up a trigger that disables buying and selling when Bitcoin rises 10%. Why? You could assume that you can expect a small decline when Bitcoin rises that much, or you want to stop trading against BTC (pairs with altcoins like BTC/ADA) if Bitcoin is too strong.
Select the exchange your trigger should be watch, the pair it should use, and what should happen. That's a percentage increase in this case.
Great! Now that we've set the trigger, let's disable buying and selling for your Hopper if the Trigger criteria is met.
Click on "Set Buying Status" and "Set Selling Status". Select "Disabled" for both in "Set Status".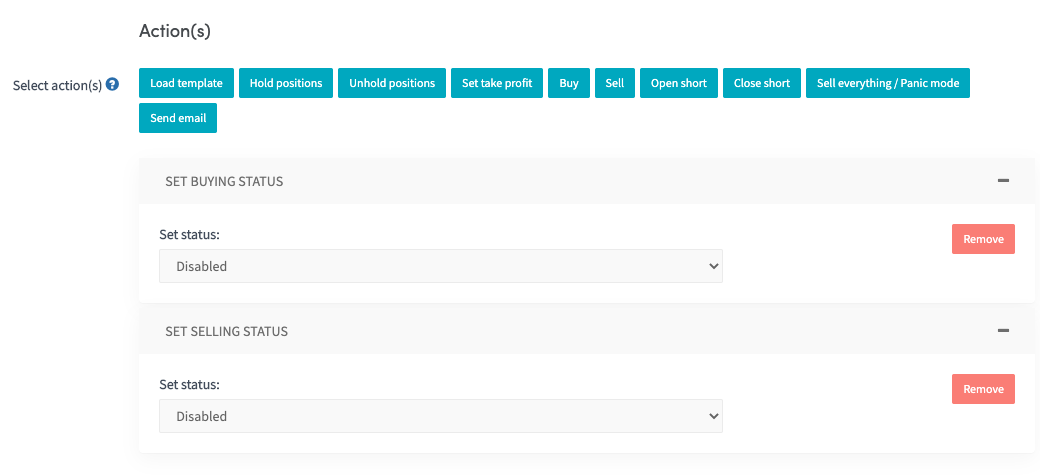 We're almost there! How long should this trigger wait until it can be used again? We've configured a day for this example.
You've done it! Triggers can help you to create that safety net for when you're asleep.
It's interesting to note that you can also create triggers based on your favorite technical indicators like the RSI, Stochastic, EMA, MACD and more! These help you to scan the markets and base your triggers on movements of the markets.
Trigger Examples Get started with triggers and get inspired through these examples. These are EXAMPLES, and should not be copied directly. The market is changing constantly, and we are not financial advisors. Use these examples as a guideline to develop your own strategy.
We are not liable for losses from using the examples provided as is. It is your responsibility to configure the triggers correctly!
NOTE: The values given are examples. Please do your own research and make your own choices. There are no ''golden settings''. For every market condition and every personal strategy different values would be ideal.
Trade with the trend (EMA triggers) Trading with the trend is especially important for our conservative day traders and scalpers. Trend-following indicators on the larger time frames can be used in order to identify the broader trend and make sure we are only trading when it is in our favor. We can use an EMA trigger for this purpose. An EMA-based trigger can allow you to trade only when the trend is in your favor. Thus, we can use the cross between a 10 fast EMA and a slow 20 EMA in order to enable or disable buying.
On the chart, it would look like this: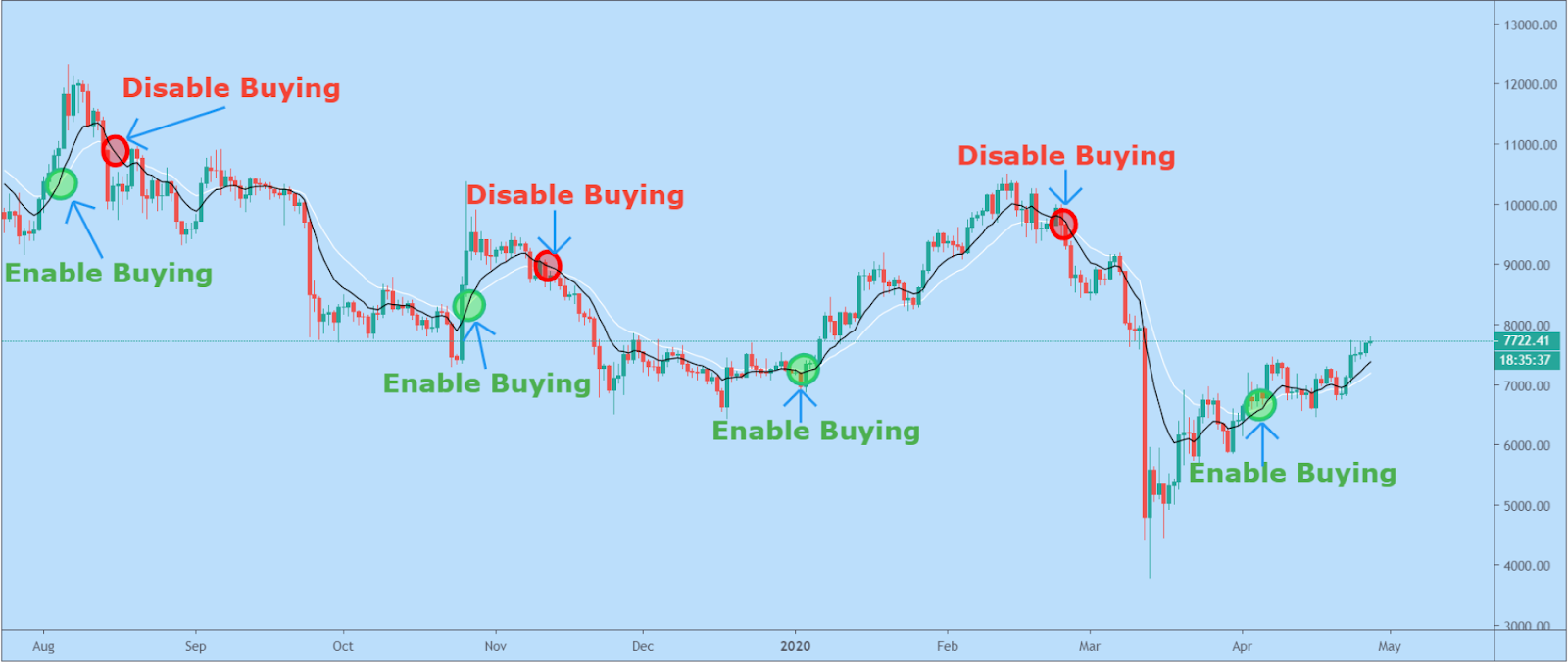 Let's now look at how you could create the trigger we have talked about on Cryptohopper!
To create a trigger you have to go to config/triggers: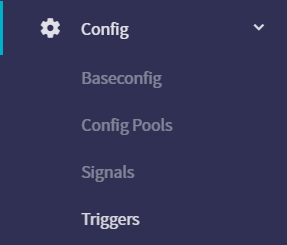 Click on New: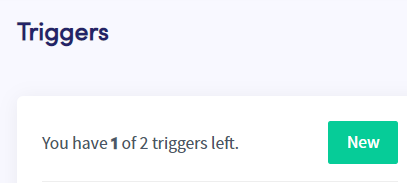 We will start with the bullish trigger: We have named our trigger EMA Trend Bullish. We have selected Binance as our exchange, and BTC/USDT as our market (you can select another exchange and stable coin if you wish). We have selected the EMA as our indicator, and the candle size of 1 day. Our trigger point, in this case, is when the EMA signals a buy. We have set the EMA short period to 10 and the long one to 20. For the "Action", we have chosen "Set buying status" and then set the status to "enabled". For the cooldown period, we have chosen 5 minutes as we want a short cool-down period in this case. Then hit "save" and we're done!
Our trigger should look something like this: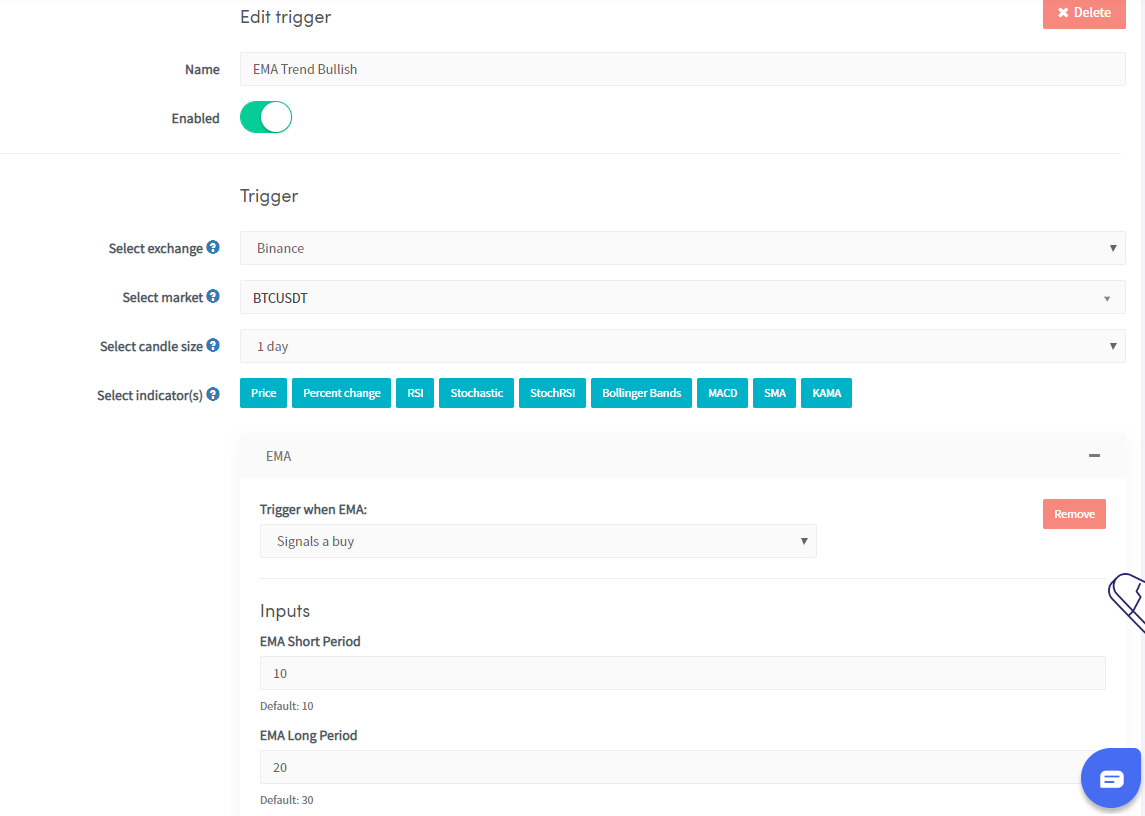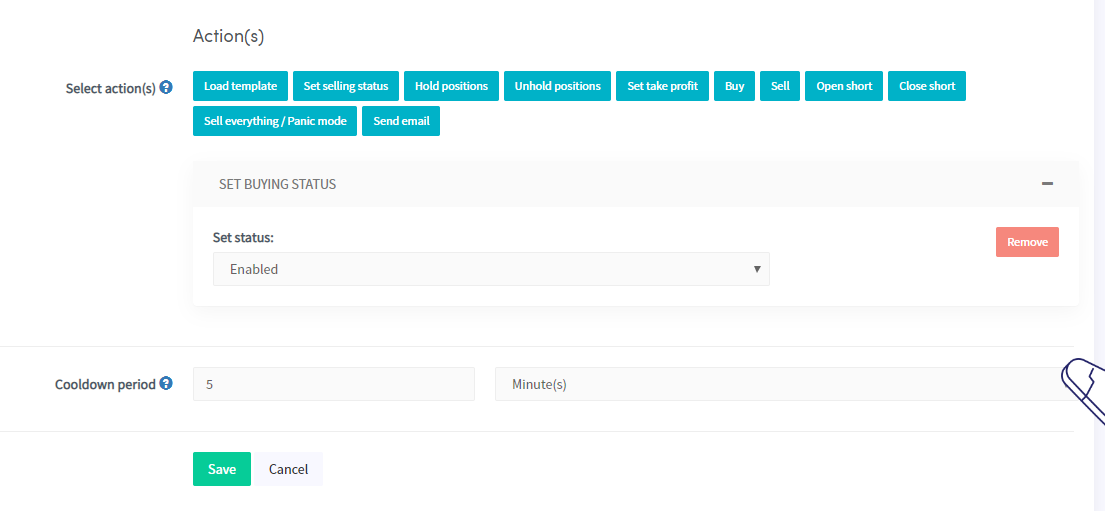 In order to disable buying in a bearish market, you can create a new trigger with the same settings. The only differences would be Trigger when EMA: "Signals a sell" and Set Buying Status: "Disabled".
Changing Templates Based On Market Conditions: Instead of disabling buying when the general Crypto market enters a bearish period, you could instead use a trigger which will load the bearish template you have created just for this purpose! Let's say that you have created 2 templates, one for bullish market conditions, and one for bearish ones. You would then like your hopper to change these templates automatically according to the market conditions. Let's now dive into some examples:
Bullish Trigger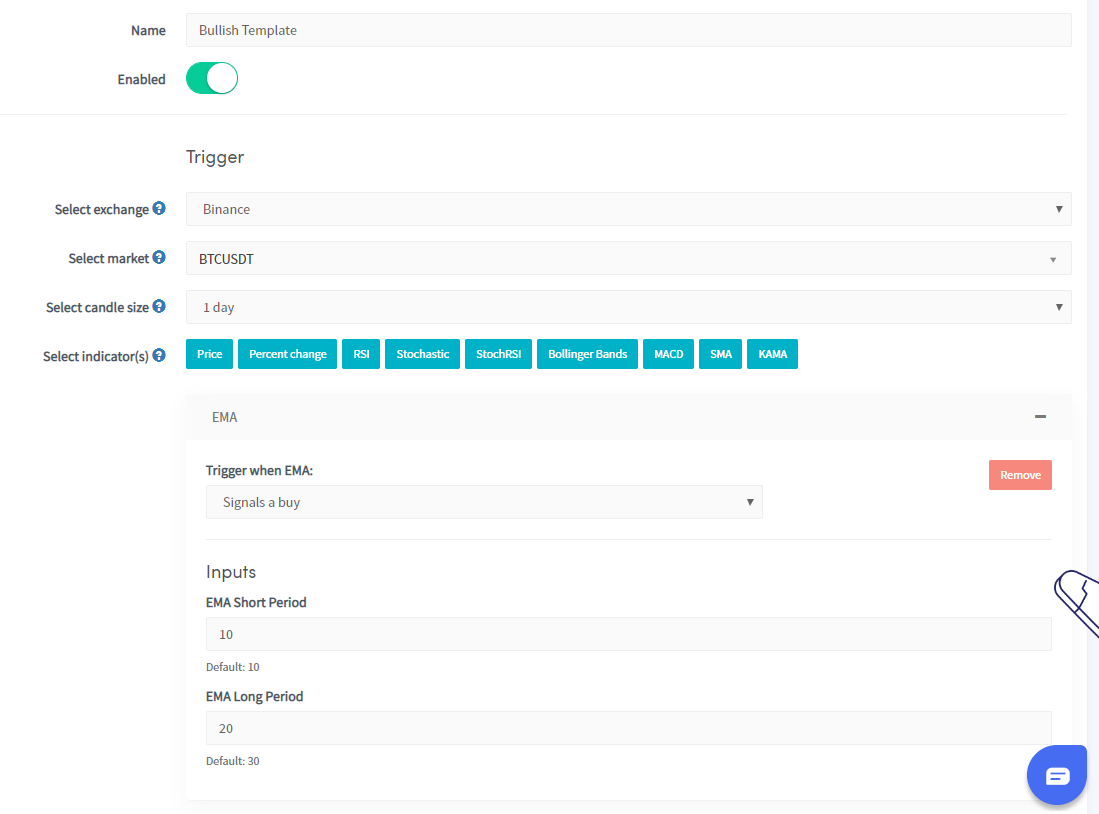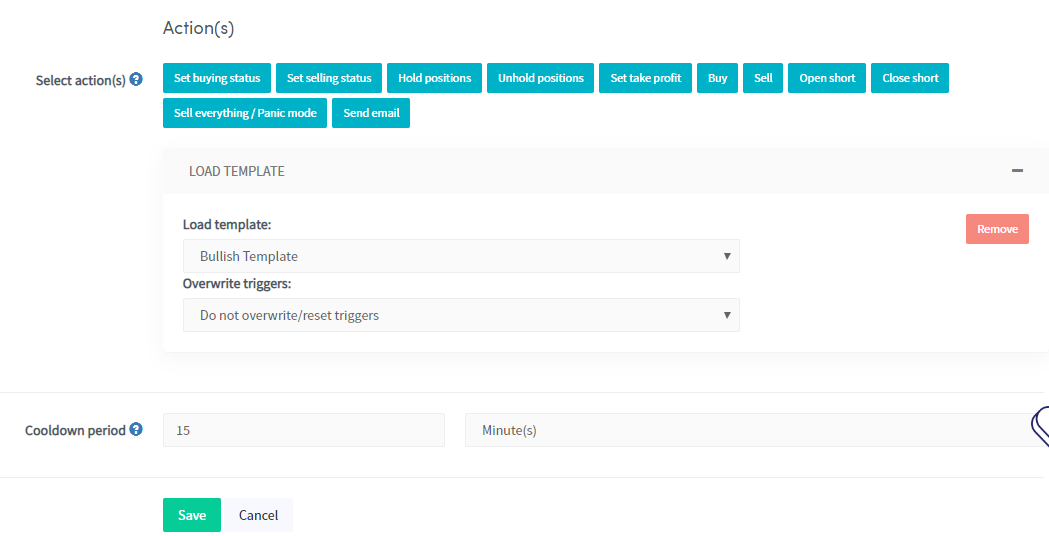 Bearish Trigger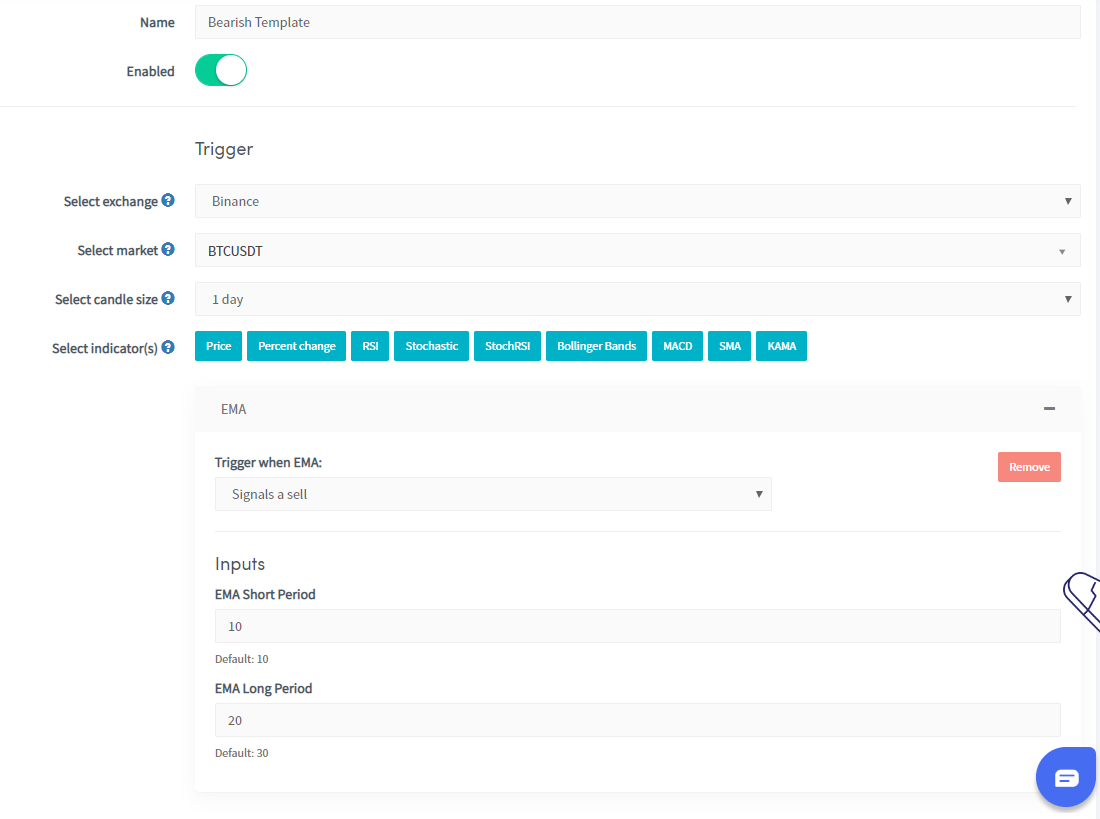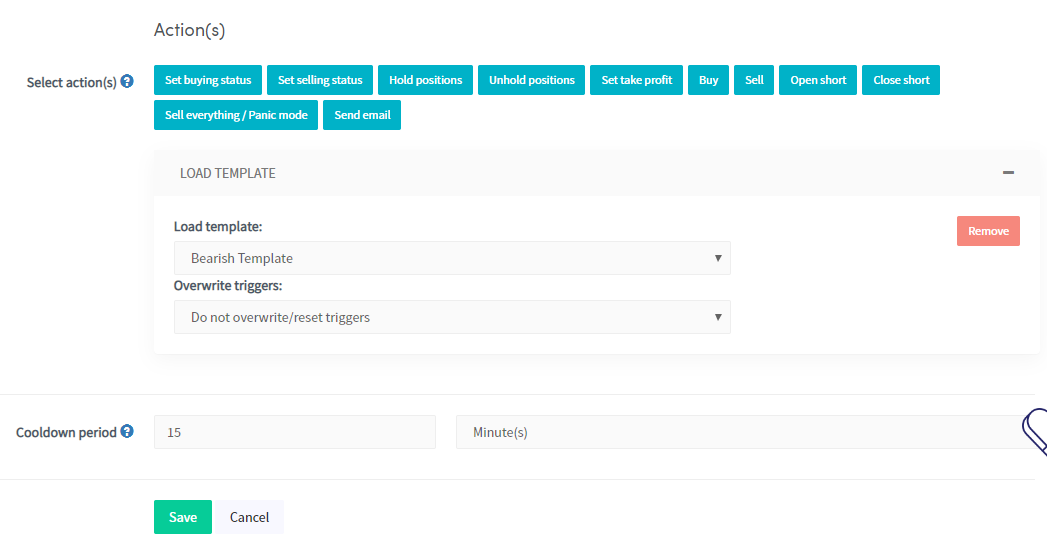 Important to note here is to rely on the same indicator and the same trading pair on the same exchange, to load both the bullish and the bearish template. If you use the EMA to load the bullish template, then you must use it to load the bearish one (this applies to other indicators such as the MACD, RSI, Stochastics, etc.). Using different indicators or trading pairs may result in triggers being activated constantly.
Note: if you have enabled "do not overwrite/reset triggers", then all settings of your new template will be applied except for the triggers. In our example, we wouldn't overwrite/reset triggers as we are only using 2.
Crash Protection Trigger
If you are a trader that uses a stable quote currency, you may want to protect yourself against market crashes, especially major ones. This trigger can be especially useful when coupled with trend-following indicators, and less useful when used with momentum oscillators such as the RSI. A solid way of protecting yourself against general market crashes is to set up a trigger that will disable buying when BTC crashes by a certain percent in a given time frame. For example, let's say we want to disable buying when BTC crashes by 4% in 30 minutes. Our trigger would look something like this: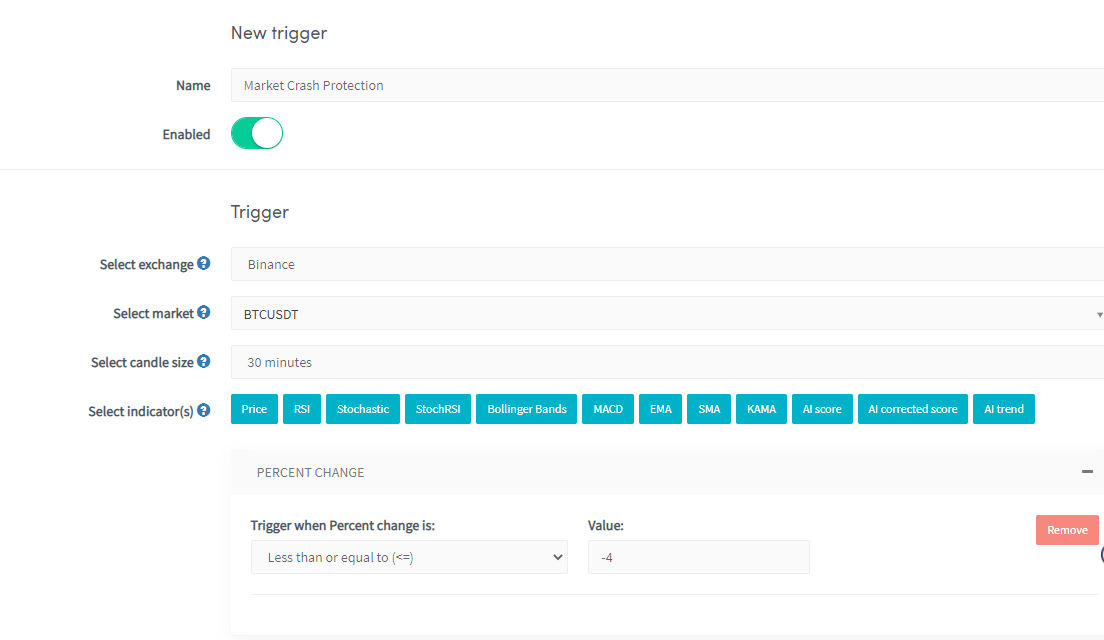 Make sure the value here is negative!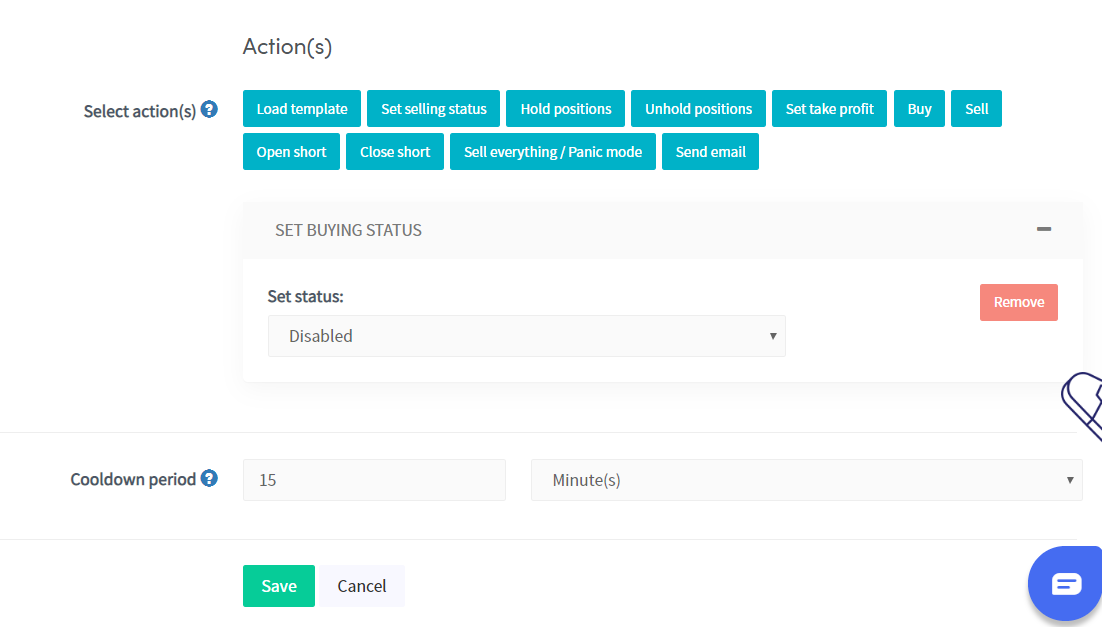 Pump Protection Trigger
If you are using an unstable quote currency such as BTC/ETH/BNB/KCS etc, then you may want to protect yourself against pumps in your quote currency. If your quote currency rises strongly against other coins, then it will be harder for you to make a profit. As such, you can again use a "percent change" trigger in order to protect yourself from this risk. It is very important here to select your quote currency (not necessarily BTC as in our example) against USDT!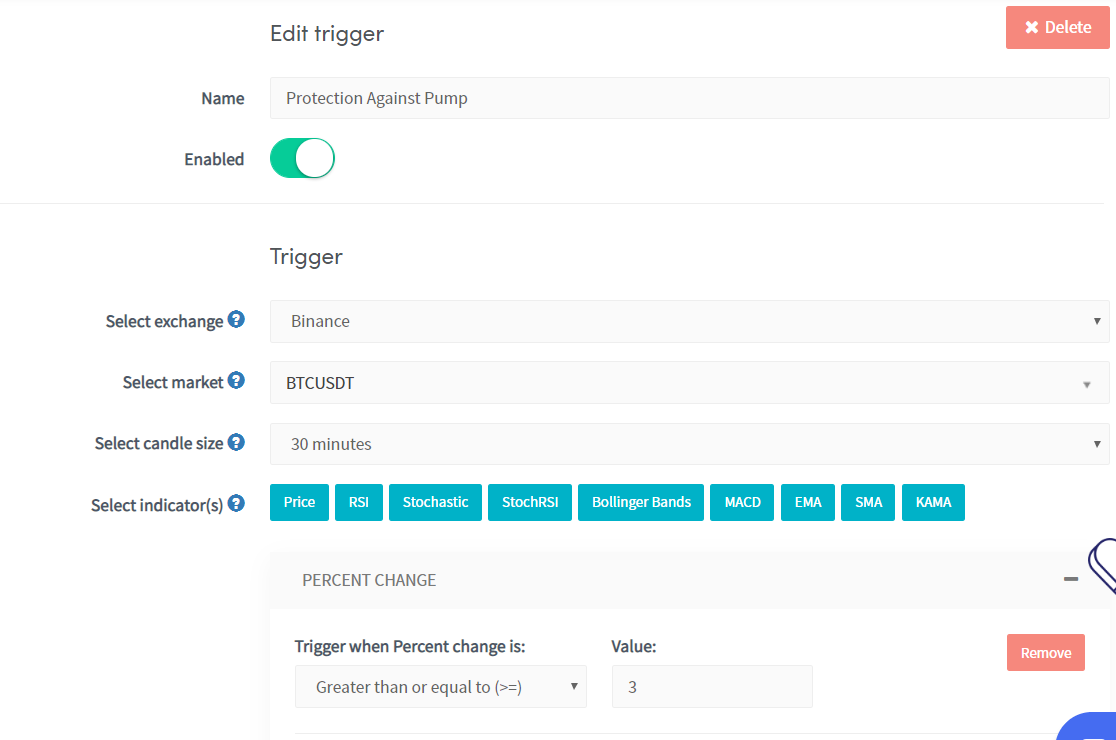 Make sure the value here is positive.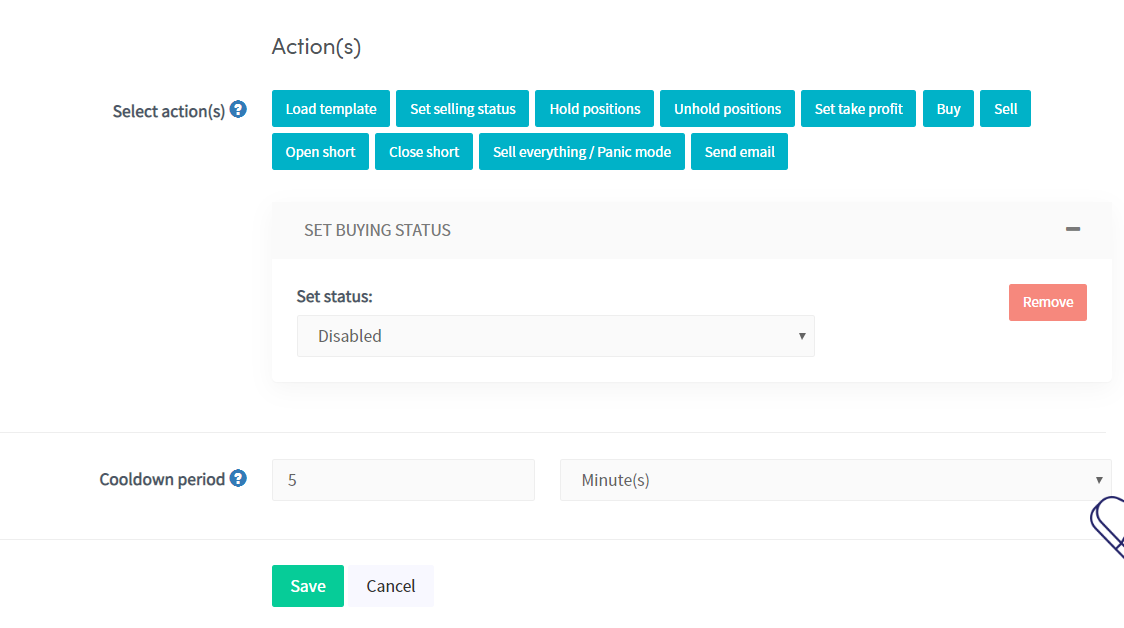 Triggers are an important part of a trader's arsenal which offers the possibility of trading with the trend, using the right settings according to the right market conditions, and protecting one from crashes or pumps. Create your trigger today, customize it as you see fit, and take your trading to the next level with Cryptohopper!
---
Last updated on
---
Was this article helpful?
---